Retail & Ecommerce
---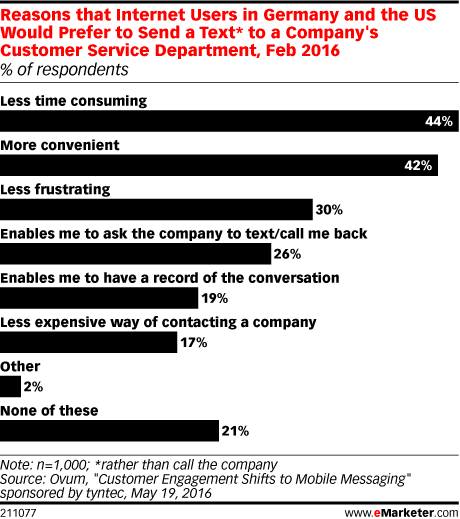 Consumers like to use different channels when speaking to customer service. According to February 2016 research, many users in the US, as well as Germany, prefer to send a text rather than phoning because it's less-time consuming and more convenient.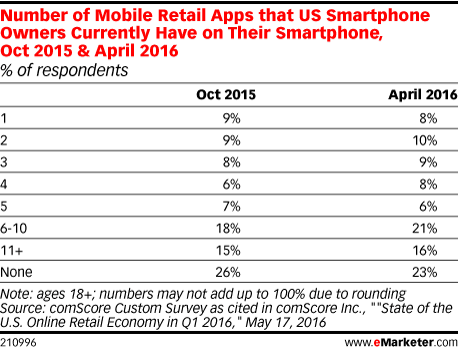 Consumers are steadily downloading more retail apps to their device compared to a year prior, research found. Indeed, nearly a quarter of respondents said they have between six and 10 retail apps on their smartphone as of April 2016, up 3 percentage points from October 2015.
The majority of ecommerce sites in Brazil use social media for marketing purposes, and Facebook is the top choice. But not much referral traffic comes from social.
More than one-third of US internet users said they first find out about small businesses when researching online, according to a survey. Walking into a local store, however, was the least likely path to discovery.
Ecommerce represents a growing opportunity for businesses in Vietnam, although government data suggests many companies are still early in the process of implementation. Consumer suspicion about the quality of products and services purchased online is also hindering adoption.
Smartphones are a key part of the dining experience for many internet users, even before they head to a restaurant. According to April 2016 research, about half of diners use their device to find a restaurant location or browse a menu.
Nearly half of executives worldwide anticipate that data analytics will result in a significant, across-the-board shift in their ability to deliver a superior customer experience within the next two years, February 2016 research found. More than a quarter said it has already done so.
Most people in the US are not using gift cards or mobile wallets to pay for goods, according to August 2016 research. Other payment methods like Bitcoin are used even less.
Marketers are continually looking to meet, and exceed, customer expectations. And in the end, improving the overall experience can be beneficial for marketers. In fact, more than eight in 10 business executives find that improving customer experiences is fundamental to future success, as well as improved brand reputation, according to January 2016 research.
While 40% of digital buyers in North America do their back-to-school shopping over the month of August, 52% begin before then—including around one in four who are already shopping by the end of June.