Restaurants & Dining
---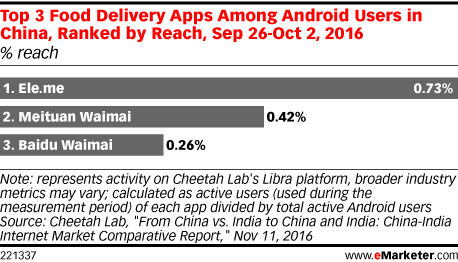 China's food delivery market leader Ele.me has already secured the backing of Alibaba. Now it looks to close out the competition by buying Baidu's platform.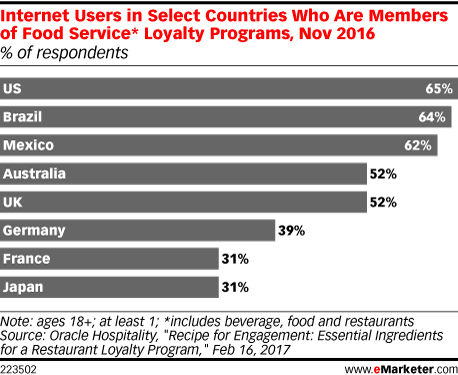 Restaurant owners worldwide are investing more in customer loyalty programs. Diners sign up, but don't really show loyalty to the restaurant.
Among US internet users who regularly go to casual, fast-casual and quick-service restaurants, 40% say they would like to hear from restaurants regularly. And by far the more desired type of marketing message was the discount.
Restaurant owners are eager to implement new technologies, according to April 2016 research—even ones that don't actually exist yet. At the top of the list are predictive ordering and automatic demand-based price adjustments.
Dialing for delivery is still the most common way to order takeaway food in the UK. However, logging on and ordering digitally is becoming increasingly common, and much of this digital behavior is being driven by mobile.
More US customers are placing orders at fast-food and fast-casual restaurants by using technology this year than in 2015. According to research, guest-facing digital offerings such as in-store tablet ordering saw double-digit growth.