Retail & Ecommerce
---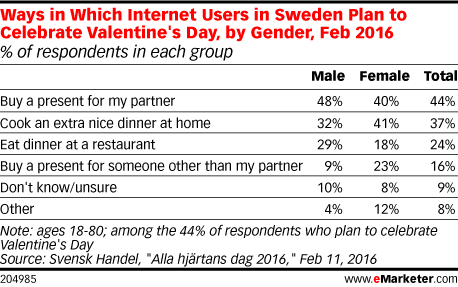 Nearly half of internet users in Sweden are planning to celebrate Valentine's Day, according to a February 2016 survey by Svensk Handel. Of those who intend to do so, 44% will buy a gift for their partner, while 37% plan to stay in and cook a nice dinner.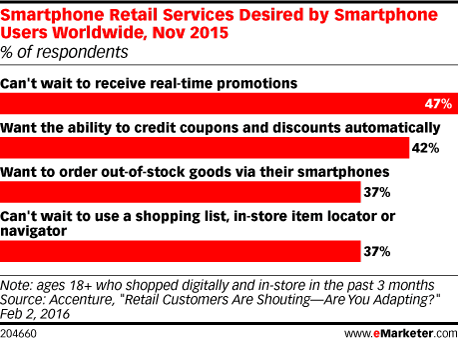 Consumers use their smartphones a great deal when shopping, and according to November 2015 research, receiving real-time promotions is one of top smartphone retail services they desire.
Memberships in loyalty programs are expanding rapidly while active participation in programs is falling. The reason is simple: Although the barriers to joining programs are lower than ever, most programs are undifferentiated and rely largely on discounts.
Most internet users in Japan plan to celebrate Valentine's Day in some way, according to January 2016 research. Whether they spend it with partners, friends or family, internet users in the country tend to see the day as a time for gratitude.
Social commerce is nothing new, and social media sites continue to influence many ecommerce purchases, according to 2015 research. Purchases influenced by LinkedIn had the biggest average order value.
Cross-border ecommerce varies country-by-country. In Europe, digital shoppers in stronger economies tend to shop domestically, while those on the other end of the spectrum look abroad for bargains. And while Canada and the US may be neighbors, they are hardly twins when it comes to digital buying.
Thomas Meyer, co-founder of Mobile Now Group and a veteran of the China mobile scene, spoke with eMarketer and offers insights on why WeChat is misunderstood and underused by many brands, and how they should go about creating a holistic China mobile strategy that includes WeChat.
Custom-designed packaging can drive repeat purchases, according to January 2016 research. In fact, more than half of US digital buyers believe it makes a product more valuable.
Without a great experience, loyalty programs are less valuable to customers and abandoned early on even if they promise discounts. eMarketer spoke with Mark Taylor, senior vice president of digital customer experience at business and technology consulting company Capgemini, about consumers' frustrations with traditional programs and how marketers can create a compelling loyalty experience.
Retailers offer consumers a variety of shipping options to meet their needs. According to September 2015 research, ship to store is the most common worldwide.