Retail & Ecommerce
---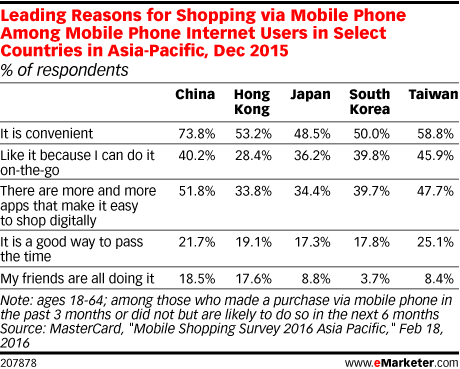 Mobile shopping is mostly attractive due to its convenience, according to mobile phone internet users in Asia-Pacific. The ability to buy on the go, as well as use apps to shop and buy, were also popular.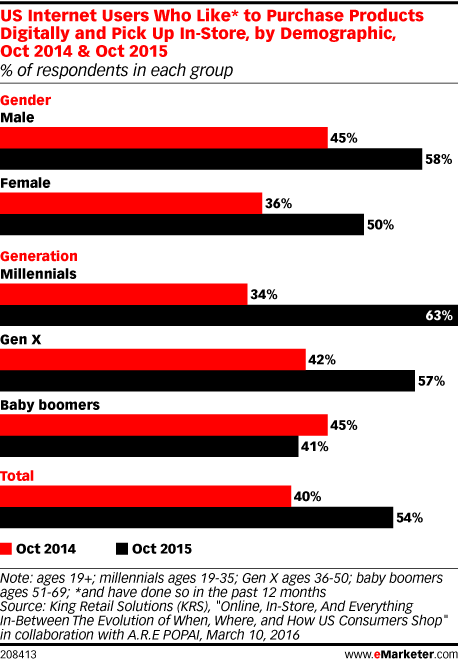 More internet users across nearly all demographics like to purchase products digitally and pick them up in-store compared to a year ago, according to research.<
Showrooming has emerged as a popular way to shop—digital shoppers first examine a product in-store before ultimately purchasing the product at a lower price online. But with shoppers increasingly connected to devices on the go, US internet users are also researching products online—and then buying them in-store.
Digital wallets were the most popular topic when it came to discussions on social media about mobile payments in 2015. According to social tracking data, just 3% of such posts were about other topics, which included contactless cards and more.
The big promise of digital advertising is that it offers marketers the chance to reach the right customers with the right message at the right time. Of course, being able to do this requires that marketers know a little something about their potential targets—they need data. UK consumers, however, didn't get the memo, and the vast majority are unwilling to share.
Business-to-consumer sales on the internet were nearly 30% higher in Q3 2015 than in Q3 2014. Yet most digital buying is focused in very few sectors, notably travel and tourism.
The mobile payments space is heating up in the UK—Android Pay is expected to hit these shores in the next few months. But are consumers in the UK convinced about mobile payments? Apple is not giving us many clues, keeping Apple Pay data close to its chest. Contactless card spending stats, however, hint at a rosy future.
Users of online personal shopping and subscription service Stitch Fix are sent a box of five apparel, accessory or footwear items selected for them by their stylist. eMarketer spoke with Julie Bornstein, COO of Stitch Fix, about what the company has learned about its customers and why she thinks these types of services are disrupting traditional retail.
According to millennial internet users in Canada, the leading benefit of loyalty programs are members-only discounts and offers. Nearly eight in 10 of those surveyed in September 2015 pointed to the members-only offers, while another 73% say they appreciate collecting rewards that can be converted into travel miles or monetary value.
Mobile is making a bigger mark than ever on the shopping process, according to 2015 data about how desktop- and mobile-based buyers conduct their research.