Retail & Ecommerce
---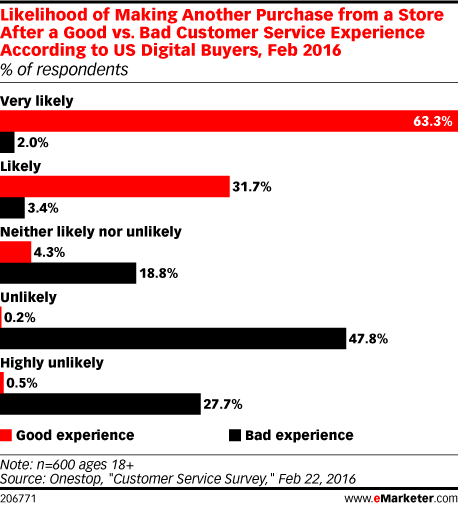 A good or bad customer experience can affect whether consumers will buy from a store again. Indeed, nearly half of US digital buyers said that it's unlikely they'll make another purchase if they had a bad experience, according to February 2016 research.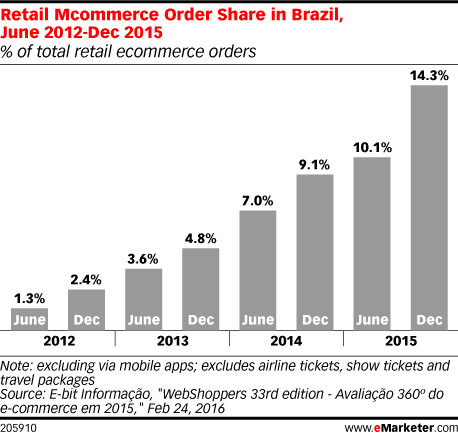 Mobile is making up a greater share of digital purchase in Brazil, according to research. And in H2 2015, that share grew rapidly. Most mcommerce sales in the country are transacted on mobile phones.
Most US internet users are willing to share their personal health information if it can help improve their personal healthcare. According to February 2016 research, almost half of respondents said they would be willing to do so, but only if it was anonymous.
Across most Latin American markets, female digital buyers spend more on technology purchases than on any other category. Health and beauty also garners a solid share of women's digital purchases.
Growth in use of mobile bill pay has been fairly steady, and fast, over the last five years. The major shift in mobile device bill pay usage came from 2013—16% of those surveyed—to 2014—27%.
Collecting consumer feedback can be beneficial for marketers who want to better understand their customers. However, there are challenges, like knowing what to ask.
Australia is home to a mature ecommerce market, with a strong majority of internet users participating. And they expect a lot from retailers, research suggests.
Since Pinterest launched buyable pins for iOS and Android devices in June 2015, major retailers like Nordstrom, Neiman Marcus and Macy's as well as emerging online merchants have used them to entice mobile users to make purchases. eMarketer spoke with Michael Yamartino, head of commerce at Pinterest, about how users responded to buyable pins during the holidays and what marketers should keep in mind as they plan for the 2016 holiday season.
According to US retail marketers surveyed in January 2016, digital marketing brings bigger returns than offline efforts. More than three-quarters of retailers said their digital ROI was greater than for offline marketing channels.
Digital buyers in India have not much changed the frequency with which they shop digitally or in-store, according to longitudinal research. Though digital shopping has become slightly more frequent, trips to the store have barely budged.