Retail & Ecommerce
---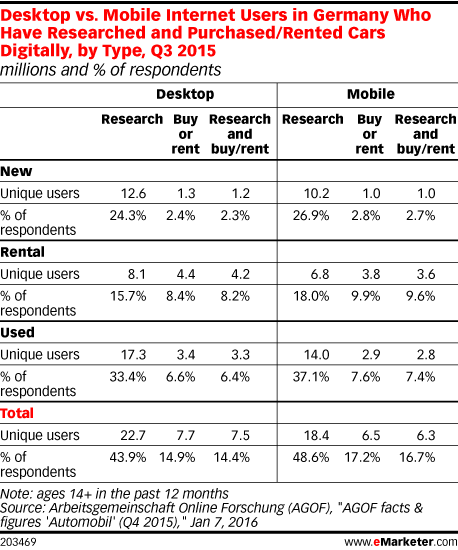 Much of the consumer car rental business has already moved online, especially in countries with advanced digital habits. Now there's evidence that in Germany, for example, people are also using the internet in their millions to research and buy new and secondhand vehicles.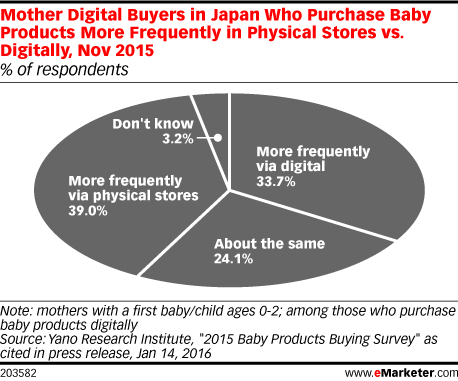 The vast majority of women in Japan who have a new baby or toddler buy baby items online at least sometimes—but according to 2015 research, they're also still heavily reliant on offline purchase channels.
Over 80% of adults approve of individuals sharing access to goods and services, though some worry about fraud.
Marketers may find it difficult to surprise and delight consumers—but research among internet users in Canada suggests there are several promotions almost equally beloved by brand loyalists.
Many consumers are not downloading and using mobile apps because of increasing privacy and security concerns, according to 2015 research. Some have even deleted an app or stopped using it because of this issue.
Multichannel shoppers in Brazil are a genuinely omnivorous bunch, according to Q3 2015 data. Multidevice users are almost equally likely to complete a purchase on a smartphone, tablet or PC.
Retailers are concentrating on a variety of initiatives in 2016. Mobile—like responsive design and app development—as well as basic marketing activities—including search optimization and customer acquisition—are top on their list.</p>
Retail ecommerce spending in Australia surpassed $19 billion last year, eMarketer estimates, and research suggests the most common purchase categories include tickets, travel and apparel.
Retailers like Wal-Mart, Target and Walgreens made significant sales gains in 2015, and are expected to be still bigger by 2020. Amazon, another top retailer, is projected to have the highest growth, according to 2015 estimates.
Only a minority of adults in Hong Kong had plans to give Christmas gifts last year—but buying the gifts online was an even more niche activity, according to research.