Retail & Ecommerce
---
In the past year, Facebook has introduced a series of tools within Messenger and Pages (the sites Facebook set up for brands and businesses) that allow businesses to communicate one-to-one with customers and even process transactions. eMarketer spoke with Benji Shomair, director of product marketing for Pages at Facebook, about these changes.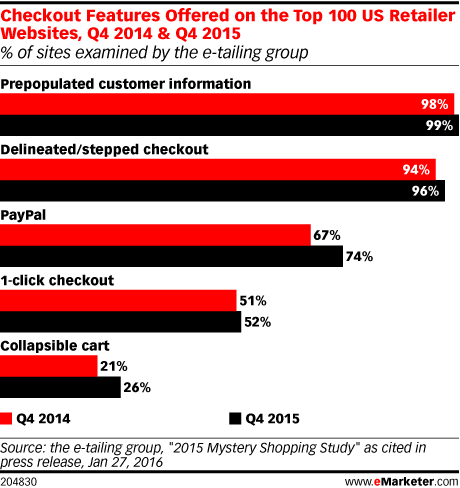 Most retailers know the checkout features they want to offer, like pre-populated customer information. Aside from a few adding PayPal to their website, many are not making changes to other areas, like adding one-click checkout.
Consumers use their smartphones a great deal when shopping, and according to November 2015 research, receiving real-time promotions is one of top smartphone retail services they desire.
Today's savvy shoppers are members of several loyalty programs, but there is little engagement with these programs beyond the point of purchase. eMarketer spoke with Zach Woith, vice president of loyalty strategy at service provider 500friends, about the reasons why customers stop using loyalty programs and what marketers can do to keep them engaged post-purchase.
Most internet users in Japan plan to celebrate Valentine's Day in some way, according to January 2016 research. Whether they spend it with partners, friends or family, internet users in the country tend to see the day as a time for gratitude.
Social commerce is nothing new, and social media sites continue to influence many ecommerce purchases, according to 2015 research. Purchases influenced by LinkedIn had the biggest average order value.
Cross-border ecommerce varies country-by-country. In Europe, digital shoppers in stronger economies tend to shop domestically, while those on the other end of the spectrum look abroad for bargains. And while Canada and the US may be neighbors, they are hardly twins when it comes to digital buying.
Internet users who are increasingly educated about personal information use and security issues are also increasingly wary of companies holding that information. But a January 2016 report reveals some ways companies can earn the trust of UK internet users.
Two in three UK internet users are comfortable with biometric identification when digitally banking, according to a January 2016 report. But for many other purposes, such a protocol may seem too invasive.
Without a great experience, loyalty programs are less valuable to customers and abandoned early on even if they promise discounts. eMarketer spoke with Mark Taylor, senior vice president of digital customer experience at business and technology consulting company Capgemini, about consumers' frustrations with traditional programs and how marketers can create a compelling loyalty experience.