Retail & Ecommerce
---
Today's savvy shoppers are members of several loyalty programs, but there is little engagement with these programs beyond the point of purchase. eMarketer spoke with Zach Woith, vice president of loyalty strategy at service provider 500friends, about the reasons why customers stop using loyalty programs and what marketers can do to keep them engaged post-purchase.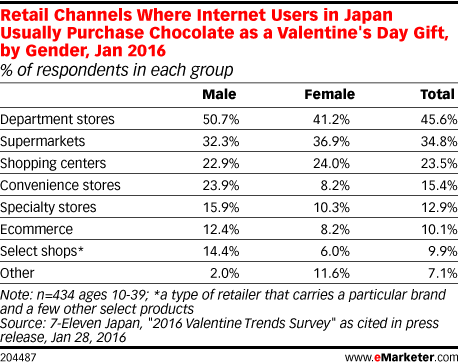 Most internet users in Japan plan to celebrate Valentine's Day in some way, according to January 2016 research. Whether they spend it with partners, friends or family, internet users in the country tend to see the day as a time for gratitude.
Many digital buyers are massively tilting towards plastic cards for their preferred payment method. An October 2015 survey found that nearly half favor Visa.
Internet users who are increasingly educated about personal information use and security issues are also increasingly wary of companies holding that information. But a January 2016 report reveals some ways companies can earn the trust of UK internet users.
Custom-designed packaging can drive repeat purchases, according to January 2016 research. In fact, more than half of US digital buyers believe it makes a product more valuable.
Without a great experience, loyalty programs are less valuable to customers and abandoned early on even if they promise discounts. eMarketer spoke with Mark Taylor, senior vice president of digital customer experience at business and technology consulting company Capgemini, about consumers' frustrations with traditional programs and how marketers can create a compelling loyalty experience.
Retailers offer consumers a variety of shipping options to meet their needs. According to September 2015 research, ship to store is the most common worldwide.
Nearly three-quarters of retailers worldwide said they wanted their apps to offer payment security. Preventing fraud is more important for retailers than seamless ordering capabilities.
Marketers of all stripes know that keeping an existing customer is easier and more lucrative than finding a new one, but fostering loyalty can be tough. Topics in this webinar include: What consumers want from loyalty programs; What marketers can do to increase consumer loyalty; How personalization can contribute to loyalty; How mobile has changed loyalty marketing.
Much of the consumer car rental business has already moved online, especially in countries with advanced digital habits. Now there's evidence that in Germany, for example, people are also using the internet in their millions to research and buy new and secondhand vehicles.