Retail & Ecommerce
---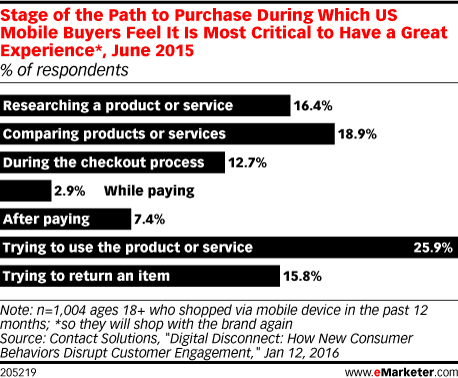 As mobile usage becomes ubiquitous, the path to purchase is becoming less defined. Shoppers are always connected, well-informed and often quick to convert both digitally and in-store. The traditional shopping phases still exist, but once smartphones are introduced, behavior shifts.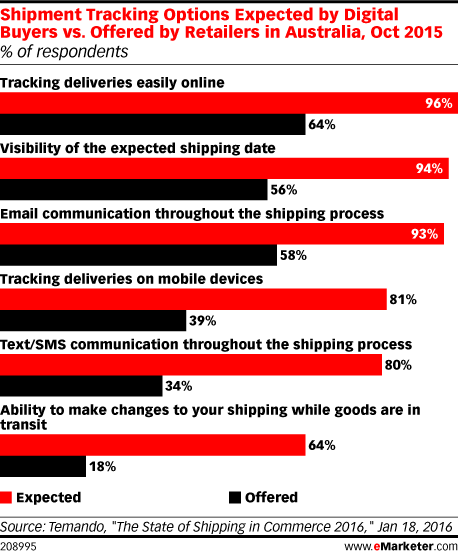 Digital buyers in Australia expect a lot when it comes to shipment tracking options. However, many retailers are not quite meeting these expectations, according to October 2015 research.
Customer centricity, a philosophy built around identifying and targeting a company's most profitable customers to drive growth, is gaining a growing following in the B2B sector. According to research, many of the philosophy's adherents are turning to marketing automation and CRM tools to help build out their capabilities in the discipline.
Retailers in North America offer a variety of omnichannel services, like buying items online and picking them up in-store. And while these services are available, many believe there&rsquo s room for improvement, according to December 2015 research.
Many digital retailers in Argentina offer their customers multiple ways to make digital purchases, according to December 2015 research. In fact, 70% of digital retailers surveyed say they offer payment installments.
Digital payment methods such as PayPal and giropay are increasingly popular, especially among males and consumers ages 40 and older. Yet nearly one in three adults shopping online or via mail-order still use open invoices for transactions.
More internet users across nearly all demographics like to purchase products digitally and pick them up in-store compared to a year ago, according to research.<
Consumers across all generations say they would likely use in-store Wi-Fi if they gained instant access to a gift or daily deal, according to February 2016 research. Millennials and Gen Xers, however, are more likely to leverage in-store Wi-Fi than baby boomers.
An overwhelming majority of adult internet users now buy online, with clothes and leisure items the leading purchase categories. Mcommerce, however, is lagging, with most digital buying still taking place at home, on desktop PCs.
Zazzle is an online marketplace that since 2005 has offered consumers the opportunity to personalize products ranging from coffee mugs to iPhone cases, skateboards to stationery. eMarketer spoke with Nizzi Karai Renaud, the company's chief marketing officer, about Zazzle's most effective marketing tools and how it converts millennial shoppers.