Retail & Ecommerce
---
Doug Pearce, CEO of Omnicom Media Group (OMG) Greater China, spoke to eMarketer about digital innovations in China and how the country could one day become a global digital technology leader.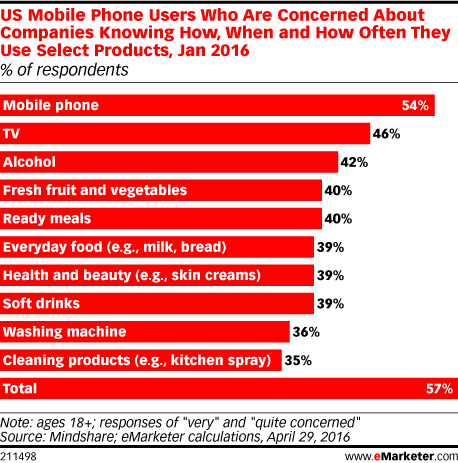 More than half of US mobile users are worried about brands tuning in to when and how often they use their products. Smartphones, TVs and alcohol raised the most concern about potential tracking, according to research.
This year, many consumers plan to do their Father's Day shopping both in department stores and online, May 2016 research revealed. Few will be turning to specialty clothing stores or catalogs for gifts.
Sharing economy revenues in Europe grew massively from 2013 to 2015. Both accommodations and transportation account for large slices of the pie.
The majority of US marketers intend on boosting their budgets for customer loyalty in 2017, according to research. And about 13% said they anticipate significant increases to their programs.
The vast majority of mobile hotel bookings are booked via smartphone, according to Q1 data. Mobile airline bookings also lean toward mobile phones rather than tablets.
Despite the ever-growing importance of online shopping and customer experiences, improving the in-store customer experience is still US retail execs' top priority. Nearly half of retail executives said so, more than any other customer engagement channel.
Technology allows today's shoppers to make most decisions before they get to the store or forgo a trip to the store altogether. Morgan McAlenney, executive vice president of Digitail at shopper marketing agency The Integer Group, spoke with eMarketer about why shoppers are willing to change their habits and what that means for brands.
Consumers like to use different channels when speaking to customer service. According to February 2016 research, many users in the US, as well as Germany, prefer to send a text rather than phoning because it's less-time consuming and more convenient.
One-third of affluent internet users in China believe that loyalty programs have increased in value over the past year. And almost all of them say loyalty programs encourage them to spend more money.