Sports
---
In the latest episode of eMarketer's "Behind the Numbers" podcast, principal analyst Paul Verna talks about the Super Bowl—what marketers got for roughly $5 million, the most noteworthy ads, and what was missing from this year's telecast.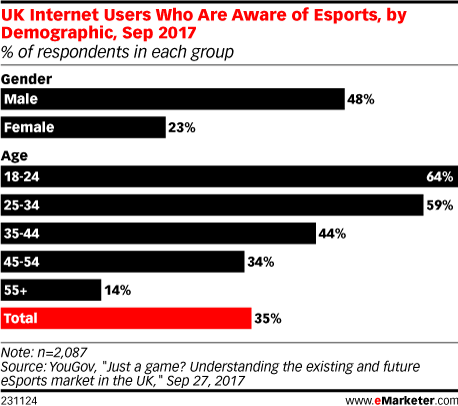 Watching other people play video games is one of the internet era's more unlikely pastimes. But both awareness and viewership of esports are growing in the UK.
When esports fans in Europe log in to watch this weekend's World of Tanks Grand Finals in Moscow, they'll be part of a fast-growing niche market expected to be worth nearly $350 million by next year.
eMarketer analyst Paul Verna joins "Behind the Numbers" to discuss Amazon's deal to stream NFL games and the shifting shape of the live video landscape.
In the latest episode of eMarketer's "Behind the Numbers" podcast, we dig into the game stats from Sunday's tilt—audience and ad stats, that is.
After a season of lackluster ratings and heightened concern about player injuries, will the Super Bowl deliver record ad revenues yet again?
Running campaigns on the back of offline events in a timely manner—aka "moment marketing"—is becoming increasingly important in the UK. More often than not, such campaigns are being triggered by live sports events.
More than two-thirds of US millennial women who use social media plan to keep tabs on the upcoming Summer Olympics via television. But don't count out social. According to July 2016 research, 63% said this would also be a key source for updates throughout August.
Television is likely to remain the top live viewing channel in the US for the upcoming Summer Olympics in Rio de Janeiro. Most US sports fans said they plan to be glued to the Games via TV this August, though smaller screens are likely to be tapped simultaneously.
Consumer attention is more fragmented than ever before in UK households. Digital devices, in particular, are becoming common distractions from the biggest screen—the TV. This is true even during communal viewing events, such as the upcoming Summer Olympics in Rio.