Artificial Intelligence
---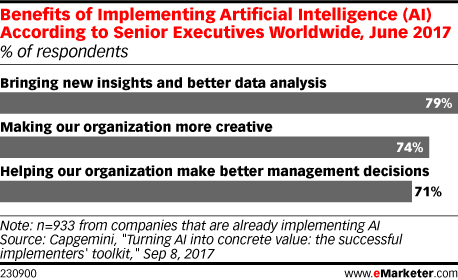 Computer scientists have been touting AI for more than half a century, but the technology is only now beginning to reveal its potential. There is still plenty of hype, but AI is finally a reality in many consumers' daily routines.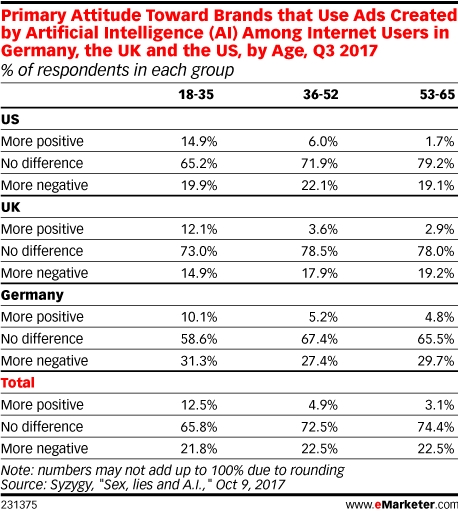 A survey of internet users in Germany, the UK and the US found that consumers are mostly indifferent about brands using ads that were created via artificial intelligence. But about a quarter expressed negative feelings.
Autonomous vehicles are widely anticipated in some countries, like India and China, a multimarket survey found. But interest in Singapore and Japan is muted.
Chaitanya Chandrasekar, CEO and co-founder of predictive advertising platform QuanticMind, describes the impact artificial intelligence is having on marketing technology.
John Suh, CEO at LegalZoom, and Ryan Steelberg, president of audio analytics company Vertione One, describe how artificial intelligence can improve audio ad tracking.
China's government just announced a plan to invest billions in the country's artificial intelligence efforts. A few other factors will also give China a great chance to surpass the US in the sector within a few years.
Melanie Cook, head of strategy and business consultancy for Southeast Asia at SapientRazorfish, discusses the rise of artificial intelligence in the region and how China became the market leader for AI research.
A new study finds nearly half of US smartphone owners regularly use voice-enabled technology.
A June 2017 study of internet users ages 18 and older in Germany by PricewaterhouseCoopers (PwC) found high awareness of digital assistants among respondents. But privacy and safety concerns appear to be holding back adoption.
Do most people know what artificial intelligence is? Yes. But they're not exactly experts on the topic.