Artificial Intelligence
---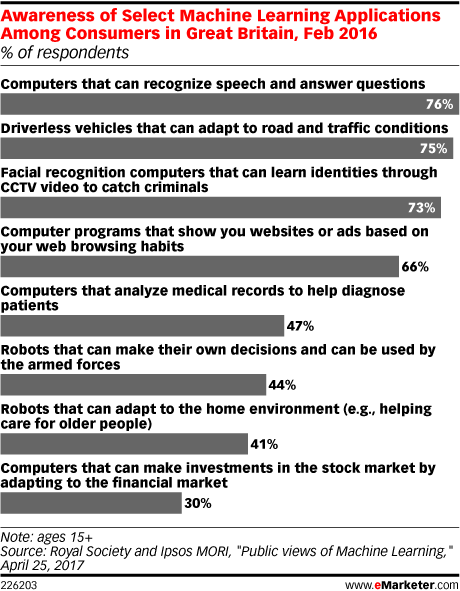 Machine learning takes the heavy lifting out of interpreting and responding to the vast swathes of digital data available in the world today. In Great Britain, consumers are already well aware of the applications of this type of technology, and many can see the benefits offered.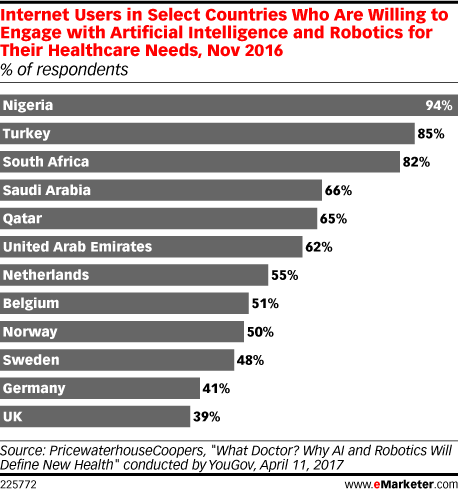 Artificial intelligence and robotic technologies could be the future of healthcare. But convincing people in the UK that that's a good thing will take a great deal of effort.
With the formation of its Native and Emerging Technologies (NET) group, 100-year-old Hearst is making a push to use augmented reality, artificial intelligence and voice-controlled search to deliver real business value. CTO Phil Wiser explains how.
If there's one particular age group likely to use chatbots for shopping-related activities, it's millennials.
Baidu's reliance on falling search revenues has left it looking for new opportunities.
Chat-based messaging apps are gaining favor with travelers, who find that they offer a number of potential benefits when staying at hotels.
Consumers in Asia-Pacific are expressing strong interest in self-driving cars, mirroring growing curiosity about the technology around the world. But potential buyers in the region have safety concerns that could hold back widespread adoption.
The Echo Dot was Amazon's best-selling product this year, signaling widening consumer comfort with spoken commands and queries.
As businesses come to terms with tapping into artificial intelligence (AI) to improve operations, one key concern for B2B marketers is how it will be integrated effectively.
Through artificial intelligence (AI), hotel chain The Leading Hotels of the World (LHW) is bringing discovery back to the travel research process, enabling consumers to contemplate travel and hotel ideas based on desired experiences, not just by location or price. AI helps make that possible. Phil Koserowski, vice president of interactive marketing at LHW, told eMarketer how.</p>