Artificial Intelligence
---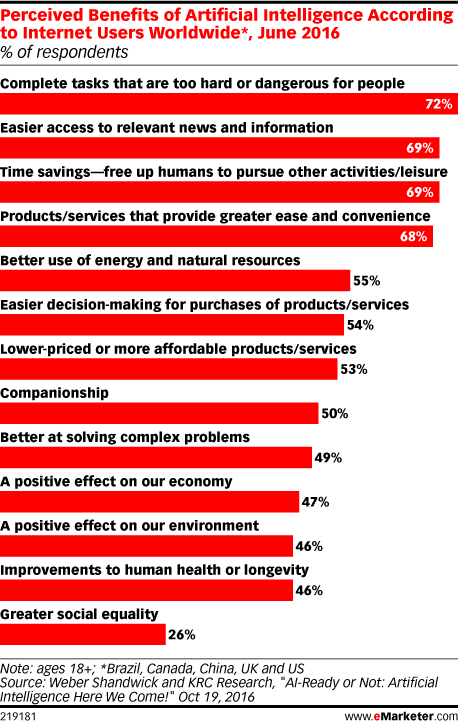 Artificial intelligence (AI), in its most widely understood definition, involves the ability of machines to emulate human thinking, reasoning and decision-making. Though AI continues to develop and become more sophisticated, internet users worldwide are seeing benefits of the technology, like its ability to complete dangerous tasks, or even the companionship it provides.
A wealth of data can be powerful, as long as that data delivers actionable insights. UK-based airline easyJet implemented artificial intelligence (AI) technology to make sense of its data and streamline areas of its business, such as stocking airplanes with the right amount of food. Alberto Rey Villaverde, easyJet's head of data science, spoke to eMarketer about why the airline turned to AI and the different ways the information AI provides is being used.
Artificial intelligence (AI) is already becoming entrenched in many facets of everyday life, and is being tapped for a growing array of core business applications, including predicting market and customer behavior, automating repetitive tasks and providing alerts when things go awry. As technology becomes more sophisticated, the use of AI will continue to grow quickly in the coming years.
Roughly half of marketing and media executives in North America said they believe predictive analytics and modeling to be one of the most helpful technologies for getting more value out of data, August 2016 research found.
Two in three senior business decision-makers in the UK think artificial intelligence (AI) will help them make the customer experience better by providing them with new data, and half hope to automate tasks so their human workers can add value in new places. But there are many concerns as well, including about the nature of AI itself.
Many IT executives in North America currently have—or plan to have—machine learning programs in place, according to research. Predictive analytics is the No. 1 implementation, but execs have dozens of use cases on their agendas.
Though traditional metrics still play a role in brands' marketing strategies, predictive technology is what keeps companies moving forward. Predictive tools make historical data actionable, and enable brands to make more informed marketing decisions. Chris Ciccarello, senior director of pricing and customer analytics at Farmers Insurance Group, spoke with eMarketer about how predictive analytics help strengthen the brand's personalization efforts.
While almost two-thirds of bad bots worldwide behave like bots, roughly 40% are able to mimic human behavior, according to 2015 research.
Predictive marketing is becoming important among marketers. In fact, more than six in 10 executives worldwide said that achieving a more complete view of the customer helped them more accurately predict customer needs and desires. That made it the leading benefit of a unified customer view.