Mobile
---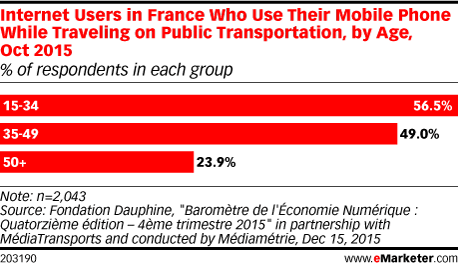 Passengers on France's public transport networks increasingly pass the time with mobile devices rather than print newspapers and books, according to October 2015 research.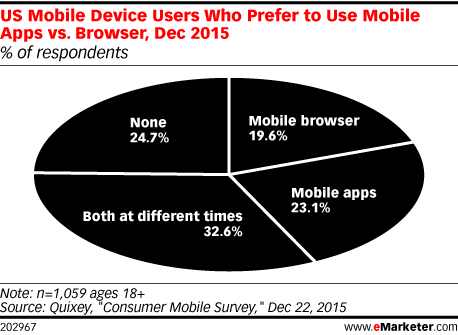 Mobile device users are split in their preference for mobile apps vs. the mobile browser, per December 2015 research. Nearly one-third say they prefer to use both at different times.
Most smartphone users Spain have fewer than 10 apps installed on their smartphones, according to September 2015 research. While the share dips to 44% for 26- to 35-year-olds, the total across all demographic reads largely the same. But are users simply uninterested in apps, or are they simply downloading them for a short time?
Mobile connections have plateaued in Chile, but users are still making moves to switch to faster-paced mobile broadband connections. 4G connections more than doubled between 2014 and June 2015.
Young people in Brazil spend the most time with mobile devices, according to September research, and Facebook is likely a major recipient of their attention. Google is the No. 2 mobile property in the country.
Video is taking over mobile data in the UK, according to 2015 data. The rise of 4G may be one reason, as eMarketer estimates two in five mobile phone users in the country will watch video this year.