Mobile
---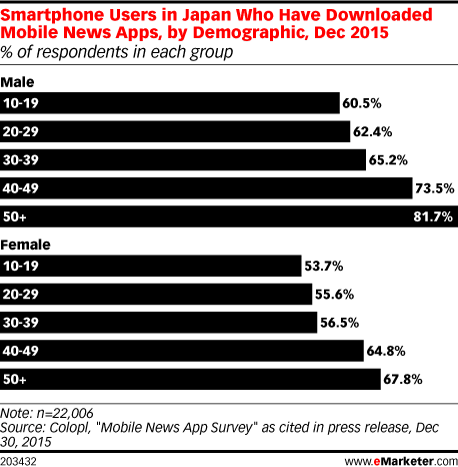 Most smartphone users in Japan turn to apps for information about what's going on in the world—at least for a few minutes a day, according to December research. Penetration is highest among men and older users.
Magnus Jern, president of the Mobile Application Solutions Division at DMI, a creator of mobile apps for global brands, discusses how consumers are using mobile apps to influence purchasing decisions, conducting research and shipping in-store purchases to their doorstep.
Snapchat's audience in the US is growing and the platform can be an effective way for marketers to reach consumers, especially millennials. According to research, more US senior ad buyers are planning to begin advertising on Snapchat than other social media sites.
Many consumers are not downloading and using mobile apps because of increasing privacy and security concerns, according to 2015 research. Some have even deleted an app or stopped using it because of this issue.
Health and fitness have provided a key opening for wearables-makers, as internet users tend to be attracted to such devices to keep tabs on their activity levels. In the UK, mobile users are open to many applications that could prove relevant to wearables.
Nearly half of US mobile users are interested in mobile-based account control for debit cards, like tools to help them control their spending and avoid fraud.
Passengers on France's public transport networks increasingly pass the time with mobile devices rather than print newspapers and books, according to October 2015 research.
Mobile video advertising brings a lot of value to marketers, primarily increasing brand awareness. It also helps with lead generation and better engagement, according to a December 2015 survey.
Most smartphone users Spain have fewer than 10 apps installed on their smartphones, according to September 2015 research. While the share dips to 44% for 26- to 35-year-olds, the total across all demographic reads largely the same. But are users simply uninterested in apps, or are they simply downloading them for a short time?
Mobile connections have plateaued in Chile, but users are still making moves to switch to faster-paced mobile broadband connections. 4G connections more than doubled between 2014 and June 2015.