Mobile
---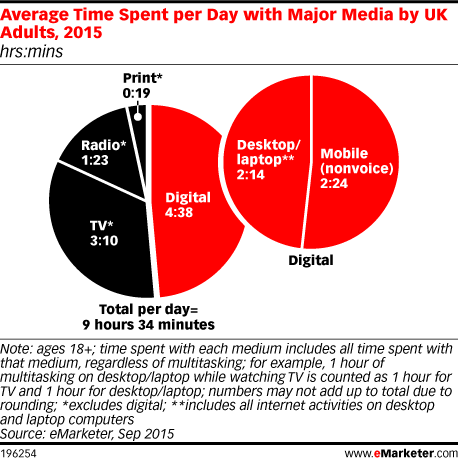 When online, mobile internet users in the UK are highly likely to be in an app environment. Even when they're not online, apps account for a huge proportion of time spent with mobile media. As smartphone and tablet use becomes increasingly prevalent, app usage is seeing a massive jump, too.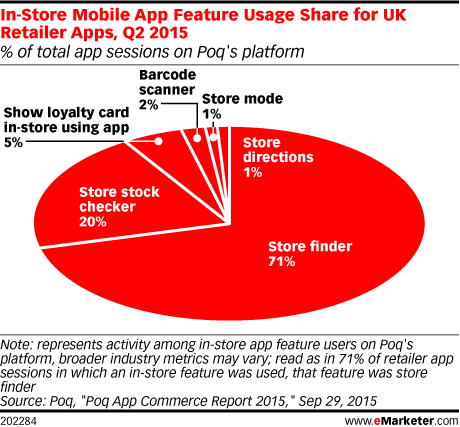 Retailers increasingly offer customers mobile apps with in-store functions, and according to a September 2015 report by Poq, 71% of in-store mobile app sessions by UK users focused on the store finder.
Internet users in Japan have migrated a variety of activities to mobile devices as they have adopted smartphones and tablets, according to December 2015 research. One reason is the convenience of mobile access in any location.
Mobile is coming to account for an ever-increasing proportion of programmatic digital ad spending in the UK. As with the wider programmatic landscape, an education phase is currently under way, but marketers are learning fast.
Mobile messaging takes up a lot of smartphone time in China, where the average user has significantly increased time spent with their device in the past year. Online video viewing takes a distant second for smartphone time.
Brazil has Latin America's largest mobile internet market, and according to November research, users of all ages have widely adopted smartphones.
Mobile video advertising brings a lot of value to marketers, primarily increasing brand awareness. It also helps with lead generation and better engagement, according to a December 2015 survey.
Social network Line is big in Japan, especially among women. Its only social media rival in the country is YouTube, which has a completely different use case. And research suggests most Line users are highly engaged.
Most mobile games in the market are free-to-play, thanks in large part to advertising. According to October 2015 data, interstitial formats are the most popular ads served within these games.
Nearly all teens in Germany own some kind of mobile phone, according to a November 2015 study by Medienpädagogischer Forschungsverbund Südwest (MPFS). Basic mobile ownership is almost identical for males and females, but a deeper look into the survey's responses reveals some gender divides when it comes to other digital devices.