Social Media
---
New Era Cap Co., the official provider of caps to Major League Baseball and the National Football League, has tested its fair share of marketing tactics. Mitch Mirsky, senior manager of digital brand development at New Era Cap, spoke with eMarketer about the value of influencers on up-and-coming social channels such as Instagram, Vine and Snapchat.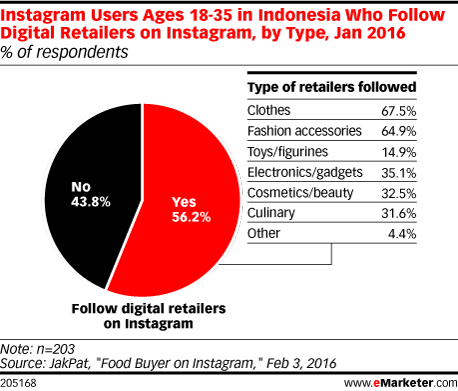 Most young adults in Indonesia who use Instagram follow digital retailers on the image-oriented social network. The most popular merchants to follow are in the fashion business.
Social media and influencer marketing is helping women's athletic apparel companies not only drive engagement with new and existing customers, but also boost sales.
Social media usage is on the rise in China and reaching an ever-greater share of the population, according to 2015 data. Social is gaining ground among all age groups in the country.
Last year, 262.0 million people around the world used Twitter on at least a monthly basis, eMarketer estimates. This year, the figure will rise to 291.0 million, and 2016 will be the last year of double-digit growth in users. The social network faces pressure to grow its audience quickly, however, to support a burgeoning ad business.
This year, for the first time, more than half of the US population will use Facebook, according to eMarketer's latest social network usage forecast. In 2016, 50.3% of Americans of all ages will be on Facebook at least once a month, up from 49.3% in 2015.
Marketers are increasingly adopting and incorporating new technologies into their strategy. According to a July 2015 survey, almost a third of respondents said it takes four to six months to fully integrate new technologies into their marketing efforts.
Extreme political views and personal attacks have produced a climate that worries some users in Germany—and could deter advertisers
Snapchat's audience in the US is growing and the platform can be an effective way for marketers to reach consumers, especially millennials. According to research, more US senior ad buyers are planning to begin advertising on Snapchat than other social media sites.
Facebook is the place to reach millennials of all political persuasions, according to November 2015 research. Other sites are more likely to skew Democratic, and even though most voters don't rely on social for political info, it's a key place for campaigns to reach them.