Social Media
---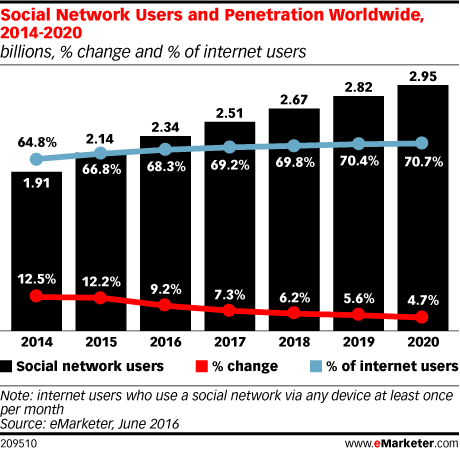 Approximately 2.34 billion people, or 32.0% of the global population and 68.3% of internet users, will access a social network regularly in 2016, up 9.2% from 2015. Greater access to the internet, particularly through mobile phones, will drive growth over the coming years.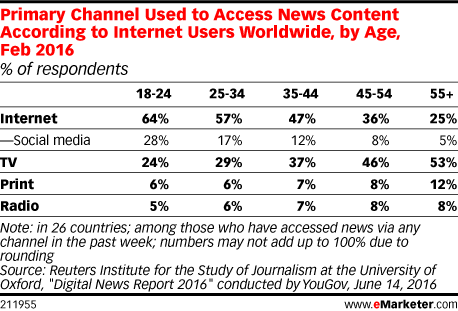 Facebook has announced your News Feed is about to get less newsy, and instead focus more on your friends and family. While many users do get news from Facebook, research suggests that it's not a primary news source for many—and most agree that friends and family are its main reason for being.
Double-digit growth in social network audiences is over in Latin America, according to eMarketer's latest estimates of usage in the region.
Getting and holding a consumer's attention in today's fragmented media world is harder than ever. However, shouting louder—and more regularly—in order that you might be heard doesn't make for a compelling brand strategy according to UK social media users.
Over seven in 10 mothers say they use their smartphone to engage with social networks, and even more use them for chat. And they're not the only group whose social habits are trending mobile.
This year, US mothers are checking Facebook more times each day than they did in prior years, research found. In fact, they're checking the social media site an average of 10.1 times daily.
Line is still the No. 1 social media platform in Japan, according to research conducted in February 2016. The homegrown social site beats out Facebook and Twitter, and is most popular among women.
Ever since Facebook began selling autoplay video advertising in 2014, the other major social properties—Twitter, Instagram and Snapchat—have become equally aggressive at courting video marketers. As a result, social video spending is growing quickly.
Instagram influencers who have the most followers don't necessarily garner the most "likes" and comments. Research from Markerly revealed that users with fewer than 1,000 followers get more "likes" and comments on average than those with more than 10 million followers.
Three-quarters of US female social media users visit brand websites, apps or social media accounts at least a few times a week, according to February 2016 research. Almost a third do so daily.