Social Media
---
Facebook began pushing in-stream video about two years ago, which has led to consumers wanting more viewable and shareable content. Matthew Corbin, head of global partner activation and brand at Facebook, spoke with eMarketer about how brands have capitalized on this, as Facebook optimizes its live-streaming capabilities.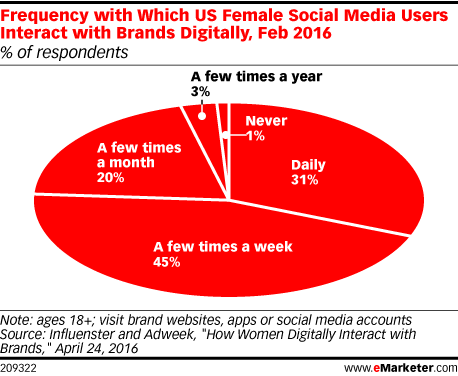 Three-quarters of US female social media users visit brand websites, apps or social media accounts at least a few times a week, according to February 2016 research. Almost a third do so daily.
Nearly all social media marketers believe Facebook produces the best ROI and is essential to social media marketing success, a March 2016 survey revealed.
eMarketer expects 2016 to be the last year of double-digit growth in the user base of the world's largest social network, as the population of Facebook reaches 1.43 billion monthly users by the end of the year. But the No. 2 ad publisher in the world still has plenty of revenue opportunity.
Programmatic, social and mobile advertising have led to new controls and worries when it comes to viewability in the UK, according to Ooyala, a global ad-serving firm tracking viewability metrics as well as providing sell-side programmatic platforms to marketers. eMarketer spoke with Scott Braley, Ooyala's general manager of programmatic advertising, about how marketers are using programmatic, social and mobile to bolster viewability.
Digital wallets were the most popular topic when it came to discussions on social media about mobile payments in 2015. According to social tracking data, just 3% of such posts were about other topics, which included contactless cards and more.
Zazzle is an online marketplace that since 2005 has offered consumers the opportunity to personalize products ranging from coffee mugs to iPhone cases, skateboards to stationery. eMarketer spoke with Nizzi Karai Renaud, the company's chief marketing officer, about Zazzle's most effective marketing tools and how it converts millennial shoppers.
The retailers that see the most success on Facebook have better interaction rates than the leaders of any other industry, according to 2015 research. But the average retailer with a Facebook presence is doing notably worse—and worse than other verticals.
Mexico is an intensely social country, both online and offline. While overall internet uptake during the past decade has remained subdued, social media adoption and engagement among connected consumers has remained strong.
Social network users in the UK increasingly check in via mobile. An interesting side-effect of this trend is the rising incidence of people signing in to social media first thing in the morning before they get out of bed. Among women, in particular, this is becoming ever-more common.