Demographics
---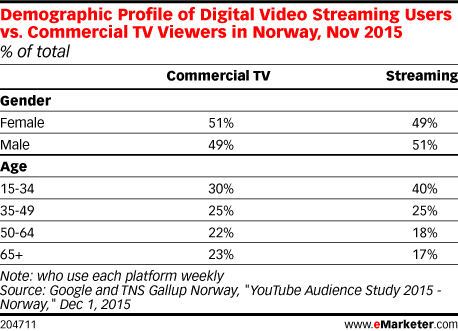 Both the commercial TV and streaming audiences in Norway are virtually evenly split between male and female TV viewers.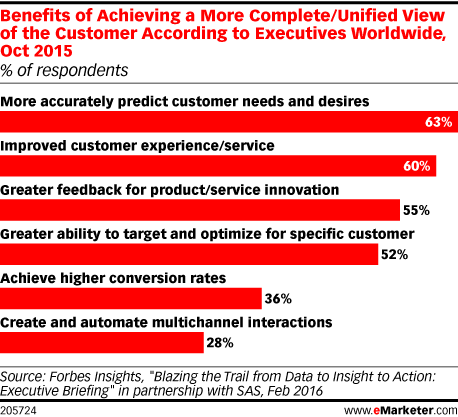 Predictive marketing is becoming important among marketers. In fact, more than six in 10 executives worldwide said that achieving a more complete view of the customer helped them more accurately predict customer needs and desires. That made it the leading benefit of a unified customer view.
Executives worldwide say expanding their customer base is a top priority, more so than retaining their existing one, according to August 2015 research.
Millennials account for an estimated one quarter of consumer spending, according to August 2015 research. Yet, advertisers spend more than a third of their total media budget pursuing them.
Women and young people in Brazil keep their mobile social media tools close by, according to 2015 research. Instagram skews especially toward females, while young people have the greatest edge with Snapchat.
Like adults, children are increasingly connected to the digital world. And while parents are granting them usage of these devices, they also want features on there that they can control.
Most parents in Japan say they let their kids use a smartphone at least sometimes. According to 2015 research, children use the devices most to consume visual media—and the time they spend doing so doesn't add up to much.
Millennial fathers in the UK often lean on digital sources for parenting insight. However, much like the stereotypical male driver not wanting to ask for directions, digital dads eschew social media platforms in favor of seeking out parenting info from altogether less personable sources.
Mobile phones are the most commonly used digital devices among children ages 6 to 14 across Southeast Asia, according to November 2015 research. Most have also used a tablet, but desktop and laptop PCs are less common.
Millennials are waiting longer than previous generations to start families, but they're still interested in becoming homeowners. Jed Kolko, senior fellow at the Terner Center for Housing Innovation at University of California, Berkeley, spoke with eMarketer about the factors that may prevent millennials from owning their own homes.