Travel
---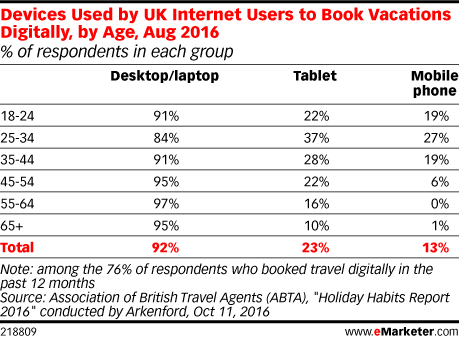 UK consumers rely heavily on digital platforms when planning a holiday or trip, even when making the final purchase. Desktop PCs and laptops are by far the most trusted devices, with mobile playing only a minor role.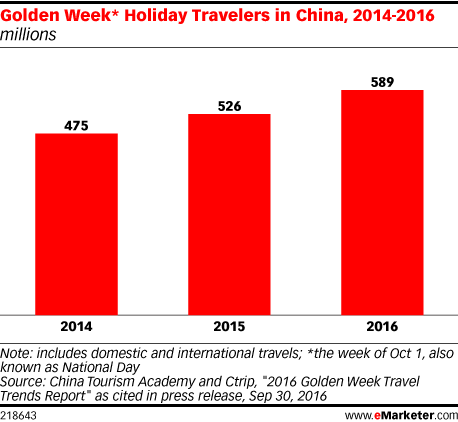 From October 1 to October 7—known in China as Golden Week—nearly 600 million people in China traveled either domestically or internationally for the holiday, up significantly from the approximately 530 million in 2015. And many of their trips were booked via mobile.
Global hotel chain Marriott International has faced the same challenges as many other large brands over the past five years: rapid consumer adoption of digital and mobile platforms, heightened customer expectations, shortened marketing cycles and competition from digitally native upstarts. Andy Kauffman, vice president of digital at Marriott, spoke with eMarketer about his company's transformation to meet the real-time, always-on demands of today's digital world.
eMarketer estimates worldwide digital travel sales—which include leisure and unmanaged business travel sales booked via any device—will rise 13.8% in 2016 to nearly $565 billion. Double-digit growth in emerging markets, particularly those in Asia-Pacific and Latin America, will help fuel gains throughout the forecast period.
The shift to cloud-based solutions is a large part of the digital transformation for businesses across industries, but going digital doesn't always mean moving all solutions into the cloud. Ahmed Elemam, senior digital marketing and analytics strategist at WestJet, spoke with eMarketer about why the airline is keeping some technology on premise.
While "internet of things" has just recently become a business catchphrase, the IT-driven travel industry has been working for years to incorporate internet-enabled components—including smartphones and tablets, wearables, sensors, communication networks, data hubs and analytics programs—into its business.