Travel
---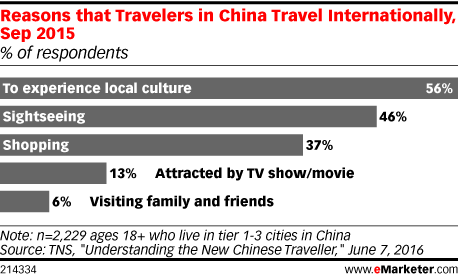 A growing appetite for international travel among consumers in China is fueling renewed interest among marketers in understanding how and where they spend their travel dollars. According to research, experiences, as well as purchasing local goods and souvenirs, is at the top of many consumers' wish lists.
Global hotel chain Marriott International has faced the same challenges as many other large brands over the past five years: rapid consumer adoption of digital and mobile platforms, heightened customer expectations, shortened marketing cycles and competition from digitally native upstarts. Andy Kauffman, vice president of digital at Marriott, spoke with eMarketer about his company's transformation to meet the real-time, always-on demands of today's digital world.
US internet users are equally divided in their intentions to unplug from the web while on vacation. Yet, according to research, most people have connected to the internet while taking a break, regardless of gender or age.
Americans may not mind booking accommodations and airfare on small screens, but search engines are where many leisure travelers in North America turn to when beginning to research a trip, according to Q1 2016 research.