Travel
---
Dirk Eschenbacher, founding partner and chief creative officer of China-based luxury travel service Zanadu, talks about the rise of China's outbound tourists, and why traditional media channels remain important in connecting with the cohort.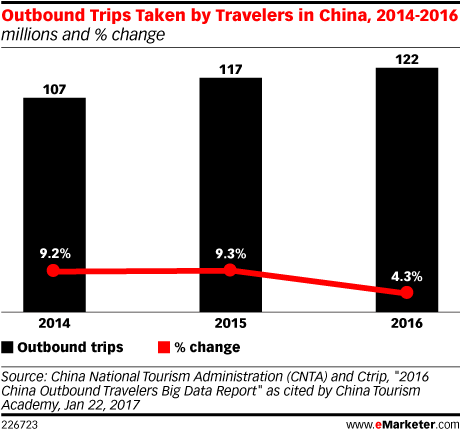 China-based payment services like Alipay and WeChat Pay have been forging partnerships with foreign payments processors to cater to the needs of the country's growing ranks of overseas tourists.
In the ultracompetitive hotel business, executives invest more in digital marketing and social to boost awareness amid threats from Airbnb, Priceline and Expedia.
German consumers spent a bit more both online and off, lifting overall travel expenditures by 2.8%, according to recent data from Verband Internet Reisevertrieb.
Chat-based messaging apps are gaining favor with travelers, who find that they offer a number of potential benefits when staying at hotels.
Brexit's long-term effects are still to be seen, but its weakening of the pound is helping push up retail spending by foreign visitors to the UK.
Airbnb is laying down the law in Amsterdam and London by limiting the number of days hosts can rent out their properties to guests. The move is part of an ongoing attempt by Airbnb to work with regulators across multiple cities—a change of tactic for the short-term home rental company.
Across all types of UK travel accommodation sites, more women visited than their male counterparts, and older users were more likely to stop by the sites than younger ones.
UK consumers rely heavily on digital platforms when planning a holiday or trip, even when making the final purchase. Desktop PCs and laptops are by far the most trusted devices, with mobile playing only a minor role.
From October 1 to October 7—known in China as Golden Week—nearly 600 million people in China traveled either domestically or internationally for the holiday, up significantly from the approximately 530 million in 2015. And many of their trips were booked via mobile.