Travel
---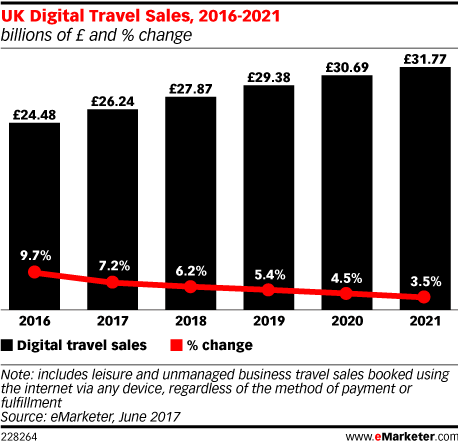 In one of its first acts, the UK's newly formed Conservative government has introduced legislation to update travel industry regulations to address digital's impact on consumer buying behavior.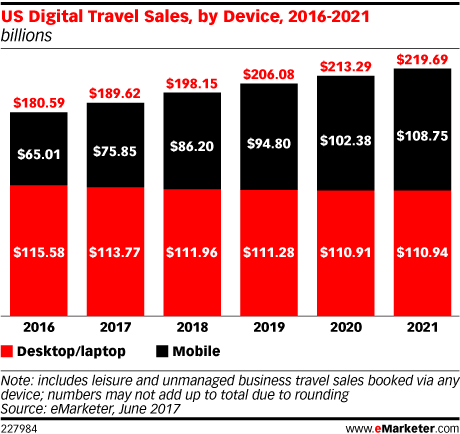 As the summer travel season officially gets under way, a growing number of Americans will use their smartphones and tablets to book a trip, according to eMarketer's latest forecast on digital and mobile travel. This year, digital travel sales in the US will reach $189.62 billion, 40.0% of which will come from mobile devices.
Stephanie Linnartz, global chief commercial officer at Marriott International, spoke with eMarketer about how the organization keeps marketing moving forward by looking outward to other industries and ahead to emerging trends.
It's no secret that millennials have high standards for customer experience, especially as companies like Amazon and Starbucks continue to raise the bar. The hospitality space is no exception, and industry veteran Hilton Worldwide has had to transform its business in numerous ways to keep up and thrive. Mark Weinstein, Hilton's senior vice president of customer experience, engagement, loyalty and partnerships, spoke with eMarketer's Maria Minsker about how the company tackles change by thinking like a millennial.
Dreams are easily confused with reality in the luxury-tinged world of the travel industry, a segment where consumers often make purchases while imagining five-star hotels and palm tree-lined beaches. The problem for travel companies, however, is that meeting or exceeding these high consumer expectations can be exceedingly difficult.
UK consumers will cut back on eating and drinking out before sacrificing on leisure travel, according to recent research that examined attitudes about discretionary spending.
After the November 2016 merger of SapientNitro and Razorfish to form SapientRazorfish, eMarketer's David Green spoke with Seton Vermaak, the digital agency's head of strategy in Hong Kong, about driving loyalty in Asia-Pacific's travel market in 2017. Seton discussed how travel and hospitality brands are re-creating the idea of loyalty.
eMarketer's scan of the key developments of the day, plus data to make sense of it all. Today's topics: Mario Run appears to disappoint investors; Amazon India gets into pedicures; the Vine app grows new shoots; and more.
Over half of all mobile travel site and app visitors in Germany ages 13 and older visited such sites and apps at least one to three times per month, according to a recent study. Nearly one-third visited a travel site or app once per week. But many would rather complete their purchase journey with an offline transaction.
Through artificial intelligence (AI), hotel chain The Leading Hotels of the World (LHW) is bringing discovery back to the travel research process, enabling consumers to contemplate travel and hotel ideas based on desired experiences, not just by location or price. AI helps make that possible. Phil Koserowski, vice president of interactive marketing at LHW, told eMarketer how.</p>