Video
---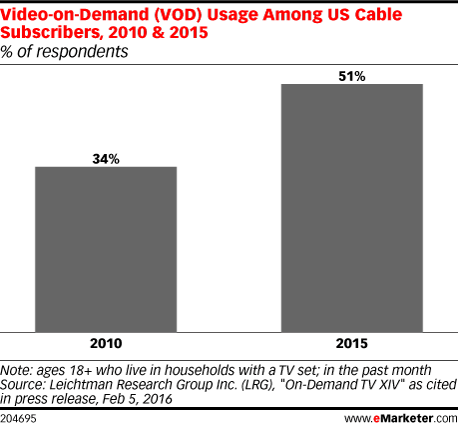 This year, 186.9 million people in the US will watch video through an app or website like Hulu or YouTube, eMarketer forecasts. And overall, video-on-demand (VOD) usage among US cable subscribers has grown, per research.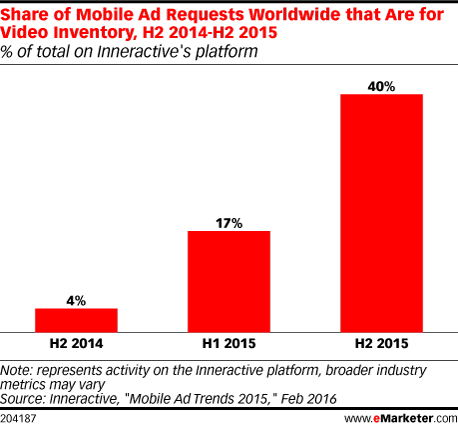 Mobile video ads can be effective and valuable for many marketers, and eMarketer estimates that video will also command a large portion of ad spending allocated to digital. Publishers and advertisers are becoming more comfortable selling and buying mobile video programmatically, per research.
This will be a benchmark year for digital video usage, particularly streaming television. According to eMarketer's latest forecast of digital video consumption, 2016 will be the first time more than half of the US population will watch TV shows online at least once a month. In 2016, 164.5 million Americans will watch digital TV—50.8% of the US population. That's a jump from 47.8% last year.
The bulk of online video viewing time in Colombia is down to male viewers, according to 2015 data. Across all adult age groups, men spend substantially more time viewing video, in aggregate, than women.
Mobile video advertising brings a lot of value to marketers, primarily increasing brand awareness. It also helps with lead generation and better engagement, according to a December 2015 survey.
Millennials are the most active video viewers of any US age group, and according to research from TiVo, this demographic primarily watches TV shows.
Video is taking over mobile data in the UK, according to 2015 data. The rise of 4G may be one reason, as eMarketer estimates two in five mobile phone users in the country will watch video this year.
Advertising revenues are key to the existence of much digital video content. Still, if there are too many ads playing, users will stop watching the video altogether, according to December 2015 research.