Video
---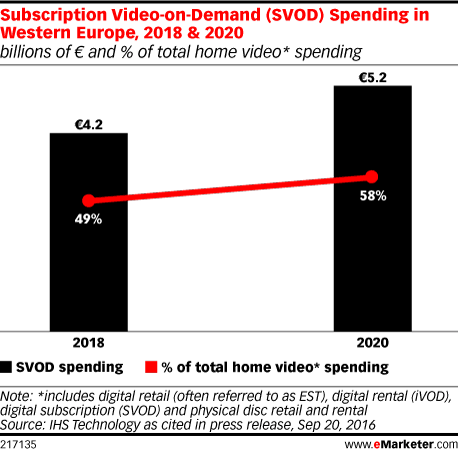 In several countries in Western Europe, spending on VOD subscriptions is already high—and in Italy and Spain, for example, spending has more than doubled since last year. According to one estimate, nearly half of all home video spending will go toward SVOD by 2018.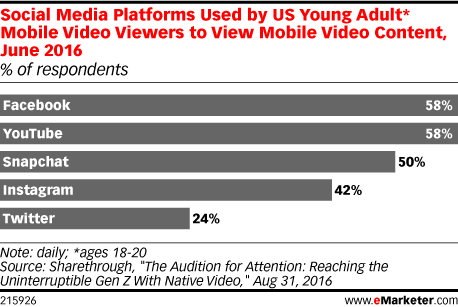 Teens aren't the only ones turning to YouTube to consume video content, young adults ages 18 to 20 are as well. According to June 2016 research, more than half of US young adults watch mobile video on the video-sharing site—and just as many view mobile video content on Facebook.
This year, according to an August report, English-speaking adults in Canada spent an average of over 10 hours a week watching digital video, up about 4% since last year and more than 40% over 2013. YouTube videos are among the most popular content.
Younger digital video viewers in Malaysia watched more videos than their older counterparts in March 2016, but viewers watched almost the same number of ads regardless of age.
It might be easy to assume that the shorter the video ad, the better the completion rate. But maybe things change when it's on a social platform. According to Q2 data, video ads that were between 30 and 60 seconds long fared better than those of less than 30 seconds on Facebook.
Social media has changed the way people pay attention to news and the formats by which it is consumed, according to Eric Hippeau, co-founder of video news provider NowThis News, which operates on social media platforms, and managing partner at Lerer Hippeau Ventures. eMarketer spoke with Hippeau about disrupting the 24-hour news cycle, in advance of his presentation at eMarketer Attention! 2016.
The share of web users in Germany who watch videos online jumped by more than 20 percentage points between 2015 and 2016—and almost half of those viewers saw video content every day
Consumers around the globe are tuning in to digital video in increasing numbers. According to an April 2016 report from Nielsen, 65% of internet users worldwide watched some type of video-on-demand (VOD), including both short-form and long-form content, in September 2015.
While there were actually more US subscribers in Q2 than Q1, growth was not as fast as Netflix hoped. The issue can be attributed to an unexpected exodus of subscribers whose monthly membership rate rose from "grandfathered" rates.
Video-on-demand (VOD) viewers in Ireland are more likely to watch movies on demand than any other genre, according to research. Sports, meanwhile, dominated live streaming—but was less popular than several leading VOD options.