Media Buying
---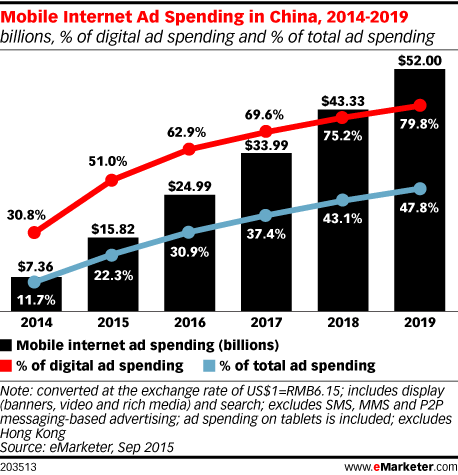 Despite widespread economic uncertainty in China, mobile ad spending is rising rapidly there, as marketers look to connect with the world's largest mobile audience.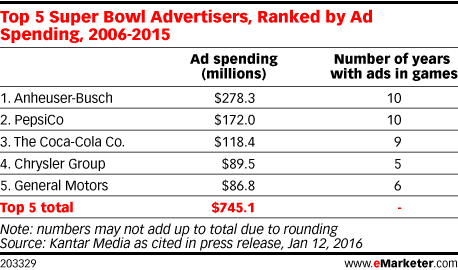 The Super Bowl remains one of the most-watched events in the US, and viewers not only tune in because of the sports, but for the ads as well. And according to research, the top five Super Bowl advertisers have spent a total of $745.1 million during the past 10 years.
Mobile is coming to account for an ever-increasing proportion of programmatic digital ad spending in the UK. As with the wider programmatic landscape, an education phase is currently under way, but marketers are learning fast.
Display ad spending may be about to outpace search this year in the US, but in many markets, search is still in the lead—and expected to stay there. And according to 2015 research, marketers around the world are planning to increase search spending this year.
Spending on out-of-home ads in South Korea slipped in 2015, with falling spending on transit ads dragging down increases in billboard and entertainment-area ad spending. But that's expected to change this year, according to one researcher.
In 2016, digital display ad spending will eclipse search ad spending in the US for the first time. Combined, the categories of video, sponsorships, rich media and "banners and other" will account for the largest share of digital ad spending: 47.9%, worth $32.17 billion.
Justin Choi, founder and CEO of native advertising platform Nativo, recently spoke with eMarketer about the future of native advertising, particularly its growing popularity thanks to issues of ad quality and ad blocking. He also shared his predictions for programmatic's influence on this ad format in 2016.
The rise of digital and mobile video may have made an impact on the lives of viewers in Australia, but the time spent on digital video activities is still small compared to traditional TV.
Most internet users in Germany use social networks, and juggernaut Facebook is popular in the country. But other sites are less widely used in Germany than in the nearby UK.