Media Buying
---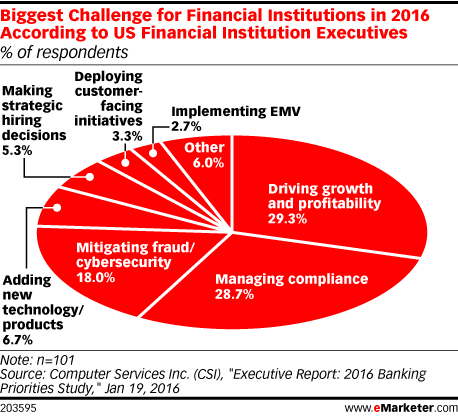 Financial institutions are facing many challenges this year, ranging from implementing EMV payments to making strategic hiring decisions. According to research, driving growth and profitability are among their biggest hurdles.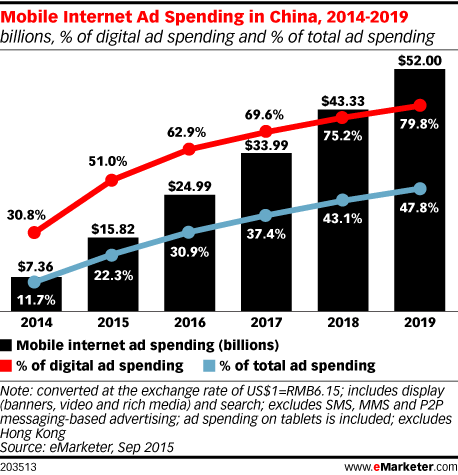 Despite widespread economic uncertainty in China, mobile ad spending is rising rapidly there, as marketers look to connect with the world's largest mobile audience.
Companies like Wal-Mart, Target and Amazon have been flocking to YouTube to run branded content and advertising campaigns. Digital video ad spending on the Google-owned platform continues to grow, and is expected to maintain the biggest share of US video ad revenues through 2017.
Mobile messaging takes up a lot of smartphone time in China, where the average user has significantly increased time spent with their device in the past year. Online video viewing takes a distant second for smartphone time.
Buyers and sellers alike see value in reaching audiences across all screens. Register here for a complimentary eMarketer webinar to learn about the opportunities and challenges of achieving a more people-based approach to targeting. Topics in this webinar include: What's the current state of cross-device targeting among advertisers? Where does TV fit in to the cross-device landscape? How valuable is first-party data? Will marketers attempting to target audiences run into privacy concerns?
TV is still the No. 1 medium for daily consumption in Canada, but the internet is not far behind. The vast majority of consumers in the country spend time with both every day—as well as with radio.
Digital movie viewership in South Korea has nearly tripled in two years, according to one source, and watching TV programs via the internet is also becoming more common.
Young people in Brazil spend the most time with mobile devices, according to September research, and Facebook is likely a major recipient of their attention. Google is the No. 2 mobile property in the country.
When buying programmatically, there are many important factors that come into play. Being able to buy display, as well as inventory across channels via a single platform are two of the top ones, according to US media practitioners.