Media Buying
---
Programmatic, social and mobile advertising have led to new controls and worries when it comes to viewability in the UK, according to Ooyala, a global ad-serving firm tracking viewability metrics as well as providing sell-side programmatic platforms to marketers. eMarketer spoke with Scott Braley, Ooyala's general manager of programmatic advertising, about how marketers are using programmatic, social and mobile to bolster viewability.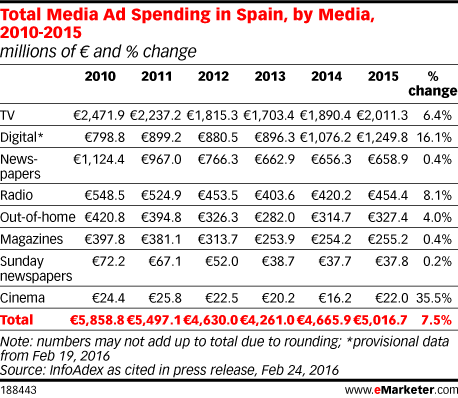 While traditional print media—newspapers and magazines—continued to flounder, digital and entertainment media spending grew rapidly. Within digital, desktop- and laptop-based spending still makes up a majority.
A study of WeChat, one of China's most popular messaging platforms, provides new insights into the service's user base and most-used features. WeChat's "Moments" feature, accessed by users to share and browse images, short videos and links from friends, is among the platform's most popular, and increasingly a key draw for advertisers.
eMarketer anticipates double-digit growth in total media ad spending in India for the foreseeable future, as advertisers direct more money toward digital and, in particular, mobile.
Advertisers in Australia report they are increasingly turning to people-based targeting to improve the effectiveness of their online ad campaigns. Many harness data gleaned from first-party sources, as well as from partners and digital ad platforms, to provide more relevant and effective advertising to consumers.
Communication comes first for most US internet users, and even before coffee for a great many of them, according to February 2016 polling.
Digital ad spending in Russia reached $1.40 billion by the end of 2015, eMarketer estimates. That is well under half of total media spending in the country, and the figure is due for just one more year of double-digit growth.</p>
In 2016, eMarketer estimates, digital ad spending will make up 35.8% of total media ad spending in the US, just 1 percentage point below the share for TV. That 1 percentage point adds up to about $1.78 billion, but a new eMarketer report explores how digital is catching up.
Programmatic advertising, an automated method of buying, selling or fulfilling advertising, already accounts for more than half of US digital display ad spending. Rapid growth and adoption of programmatic advertising in areas such as video and mobile are trends in their own right, but they aren't the only advancements buyers and sellers need to know about when it comes to ad automation.
2016 will be a challenging year for advertising in the US. Although paid media spending will rise by 5.1%, growth will be slower than previously expected as advertisers pare investments on traditional media formats like TV and radio.