Advertising & Marketing
---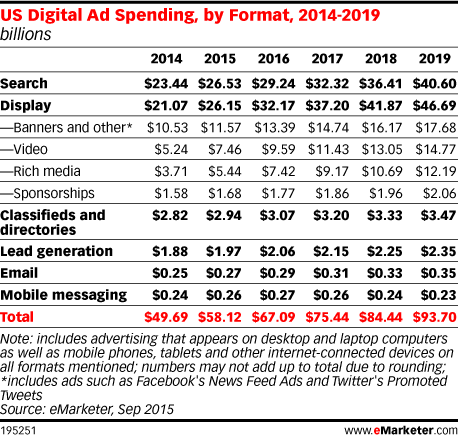 In 2016, digital display ad spending will eclipse search ad spending in the US for the first time. Combined, the categories of video, sponsorships, rich media and "banners and other" will account for the largest share of digital ad spending: 47.9%, worth $32.17 billion.
Justin Choi, founder and CEO of native advertising platform Nativo, recently spoke with eMarketer about the future of native advertising, particularly its growing popularity thanks to issues of ad quality and ad blocking. He also shared his predictions for programmatic's influence on this ad format in 2016.
Many brands prefer to upload their videos directly to Facebook, according to research from quintly. YouTube videos only make up roughly one-quarter of all videos posted by brands on the social network.
Search engine optimization (SEO) professionals consider social shares and unique visits the most important KPIs for a piece of blog content, according to a December 2015 survey.
Advertising revenues are key to the existence of much digital video content. Still, if there are too many ads playing, users will stop watching the video altogether, according to December 2015 research.