Advertising & Marketing
---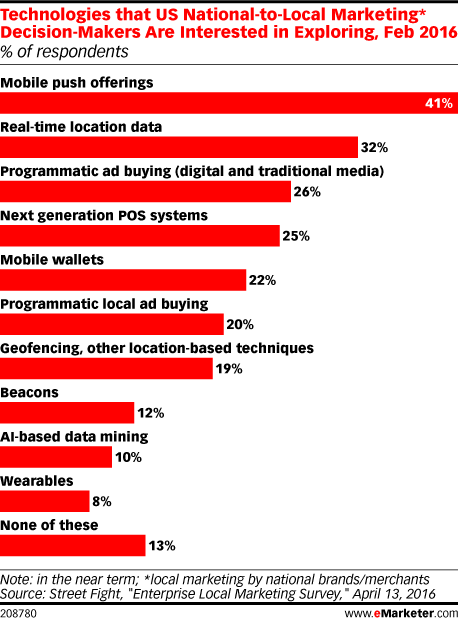 A growing number of executives are looking to marketing technology to help supercharge their local ad buying plans. Mobile push technology and real-time location data are both two key areas of interest.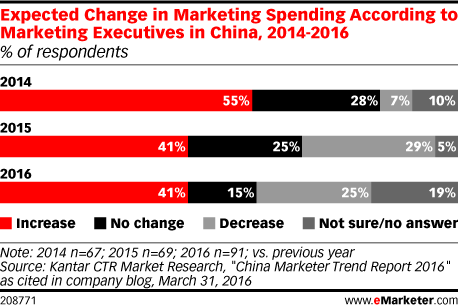 Even in the face of a recent economic slowdown in China, research suggests marketers in the country expect their 2016 budgets will increase or remain the same. TV, digital and mobile ads will dominate all formats in investment, though there is disagreement between forecasts as to which format will account for the biggest share of 2016 budgets.
Ad blocking as a phenomenon is gaining traction—20.5% of UK internet users will use ad blocking software in 2016, eMarketer estimates, and that will rise to 27.0% next year. eMarketer's senior analyst in the UK, Bill Fisher], looks at the assumptions underpinning eMarketer's forecast and outlines what the numbers mean for marketers, publishers and advertisers.
Sorting through the myriad options for advertising opportunities can seem overwhelming. As brands shift budgets from linear TV to digital video, they are faced with decisions about what platforms work best, what publishers to partner with and how to assess campaign success in a fragmented, evolving media landscape.
Native advertising has emerged as an increasingly popular form of advertising. And while marketing professionals in Germany are still wary of a number of elements when it comes to native advertising, that's not the case when they consider the advertising method's future.
Strong majorities of internet users in China say they pay attention to ads on a variety of websites—though they're significantly less likely to actually click on them, research suggests. Relevance is key.
Digital is central to the lives of children and teens in Canada. Like millennials, these are digital natives, with no concept of a world without the internet. Engaging them requires digital and mobile thinking from brands. It also requires an understanding of how behaviors are shifting—and an ethical approach, especially with kids.
Three in four US marketers say that ad blocking will have a negative effect on the programmatic advertising ecosystem, according to February 2016 research. But some actually think the impact will be a good one.
Whether it's monitoring the supply chain, tracking and managing inventory, delivering personalized promotions, or enabling ecommerce from new environments, the retail internet of things (IoT) is ushering in an era in which "smart" things can seamlessly collect, share and analyze real-time data.
Most internet users know that ads allow publishers to provide free content. Yet a majority of those online would rather block ads than pay for an ad-free experience.