Advertising & Marketing
---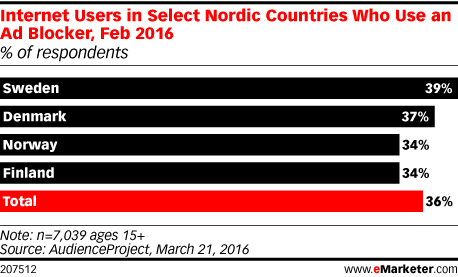 According to a February 2016 survey, 36% of internet users in Denmark, Finland, Norway and Sweden used an ad blocker. The ad blocking user rate was highest in Sweden, at 39% of respondents, followed by Denmark (37%). Norway and Finland were tied at 34% each.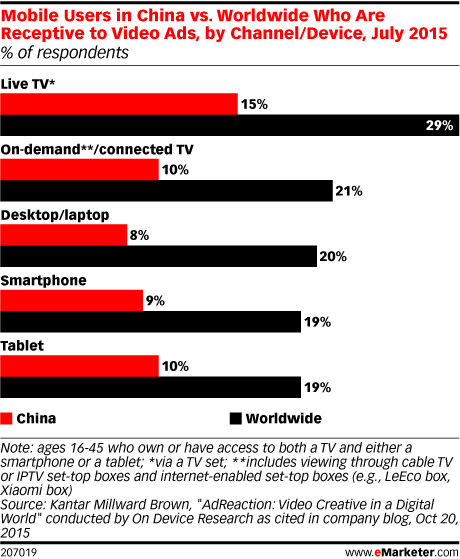 Mobile devices have helped bring the internet and digital media to more people in China than ever before. But 2015 research suggests that users in the country are less receptive to mobile video ads than their counterparts around the world.
Internet usage is higher in China among men than among women, according to our latest forecast of internet usage around the world. And, in turn, men outnumber women in the digital population of the country.
Though the internet of things (IoT) is still in its early stages, it has significant potential for the financial services sector. By building on early success with mobile technology, banks, insurers, payments companies and other financial firms are experimenting with ways to streamline their operations, reduce risk and create more valuable experiences for their customers.
With more than 20 years in the industry at companies such as Yahoo, ValueClick and Wal-Mart, Pete LaFond brings a strong, unique background to programmatic advertising and audience targeting platform TruSignal. LaFond spoke with eMarketer about programmatic advertising in the addressable TV space—a small-scale but emerging area that packs massive potential for bringing greater efficiency to TV advertising.
In the UK and US, about a quarter of smartphone users have installed an ad blocking app on their device, while in France, about 30% of all internet users use ad blockers.
African nations have some of the highest gender gaps in digital access and smartphone ownership, according to a February 2016 report. Even where overall access is very low, men are more likely than women to be online.
Internet of things (IoT) devices are garnering the attention of many marketers and consumers. While they may have different purposes, a December 2015 survey found that these devices may become common financial transaction methods, particularly wearables.
When it comes to targeted advertising, many US internet users across generations feel like they are often forgotten about by advertisers, according to November 2015 research. And they feel it is about time they are recognized.
Marketing technology is getting greater attention from marketing professionals, but many in the industry are often uncertain about how to apply it to their business. According to research from Rocket Fuel, two marketing technology trends likely to see more activity in 2016 are programmatic buying of TV and data management platforms.