Technology
---
Scott Webb, president of cloud technology provider Avionos, talks about a surprising path for the future of marketing clouds.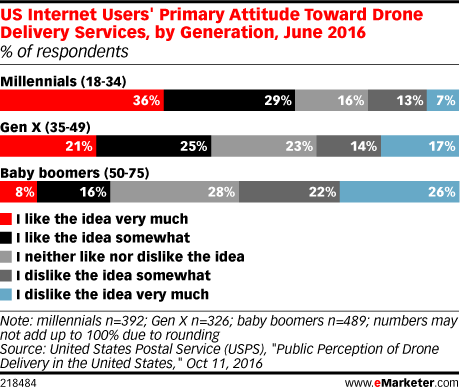 Are drone deliveries likely to be coming to your neighborhood soon? eMarketer's Ezra Palmer and Marcus Johnson discuss the future of drone delivery, and how technical and business factors, as well as consumer attitudes, are likely to affect mass drone deployment. Part two of our series of conversations about apparently outlandish ideas that could become everyday realities.
Cloud computing may be common knowledge among digital media and marketing executives, but consumers aren't quite sure about it.
The theme of the show was technology as retailers grappled with the challenge of meeting online competition.
Artificial intelligence isn't just for science fiction films anymore—it's a real tool for marketers and advertisers across industries. From natural language processing to social data parsing, cognitive solutions can solve some challenges that brands could not previously tackle. Nish Parekh, program director of IBM Watson client services, spoke to eMarketer about how the company's Watson technology is strengthening marketers' decision-making capabilities.
In-store technologies can enhance the shopping experience, and many retailers are seeing the benefits of them. A June 2016 survey found that technology can help retailers reach more consumers, as well as better inform in-store employees.
Digital technology has had an overwhelmingly positive impact on marketers' business outcomes. But actually implementing the necessary internal changes needed to make transformative digital technologies work properly can be difficult. Many organizations report issues adapting their company culture and figuring out who should be in charge of such efforts.
Two in three senior business decision-makers in the UK think artificial intelligence (AI) will help them make the customer experience better by providing them with new data, and half hope to automate tasks so their human workers can add value in new places. But there are many concerns as well, including about the nature of AI itself.
The latest episode of "Behind The Numbers" focuses on smart cities. How is the combination of media and technology fueling municipal innovation, bringing new digital services to denizens and opening up new, cutting-edge advertising opportunities?
Doug Pearce, CEO of Omnicom Media Group (OMG) Greater China, spoke to eMarketer about digital innovations in China and how the country could one day become a global digital technology leader.