Media & Entertainment
---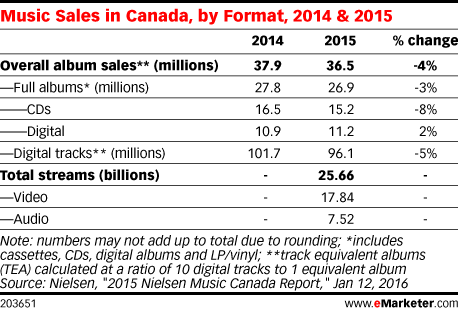 Music sales in most formats continued to slide in Canada last year. Small growth in digital album sales was not enough to overall growth rates to the positive side.
For the past several years, outdoor apparel brand The North Face has been creating content around athletes going on expeditions to test out its products. In 2015, the company launched 360-degree video to develop an immersive virtual reality (VR) experience with the aim of bringing people closer to those expeditions. The goal was to create a stronger connection with the brand. eMarketer spoke with Eric Oliver, The North Face's director of digital marketing, about the success of its campaign and some important takeaways from its first experiments with the medium.
Though vinyl album sales grew by 56.6% in 2015—to 6 million units—they only make up a small portion of music sales in North America, according to 2015 research. Digital units were down.
Millennials are the most active video viewers of any US age group, and according to research from TiVo, this demographic primarily watches TV shows.