Marketing Technology
---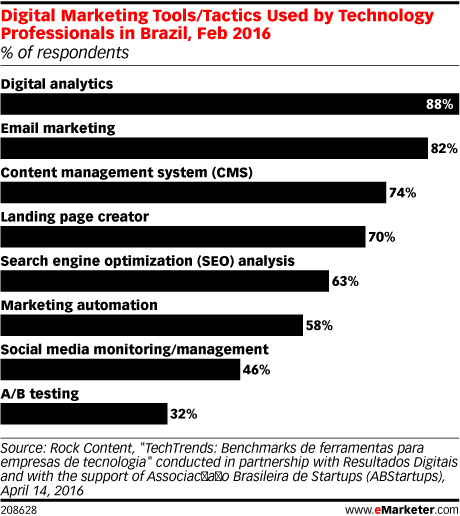 Nearly 90% of those surveyed say they employ digital analytics; another 80% say they use email marketing. And nearly all of those who do use analytics turn to Google.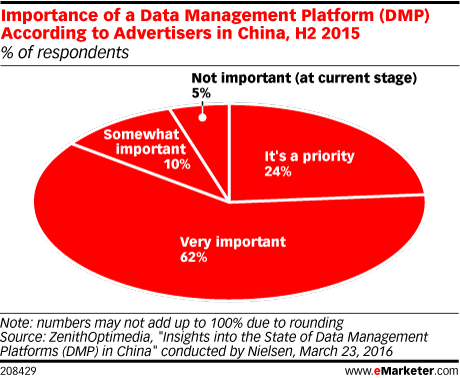 Programmatic advertising is on the rise in China, and eMarketer projects nearly $10 billion in spending this year. Getting a data management platform (DMP) in place has become critical for marketers in the country, according to 2015 research.
Predictive technology is not new—tools are improving quickly and solutions are becoming increasingly powerful—but adoption among B2B marketers is still lagging. Organizations are reluctant to commit to predictive solutions, despite the promise of better performance through the pipeline. Matt Heinz, president of agency Heinz Marketing, spoke to eMarketer's Maria Minsker about the value of predictive technology.
Now that more marketers are taking technology into their own hands, it's crucial that they stay up to date on the ever-expanding space. eMarketer's Bryan Yeager spoke with Scott Brinker, co-founder and chief technology officer at interactive content software provider ion interactive and editor of the Chief Marketing Technologist blog, to get his latest take on what's new and what's changing in marketing technology.
In the age of big data, marketing technology plays the critical role of making the massive stream of incoming data digestible and actionable. Chris Curtin, chief brand and innovation marketing officer at Visa, spoke with eMarketer about the company's approach to vendor selection and why integration still presents a challenge.
CEOs today are anxious to harness the power of digital platforms and the data they generate to stay competitive and drive future growth. As a result, marketers that have embraced a data- and tech-driven approach are being tasked to spearhead digital initiatives that cut across the organization.
Since eMarketer last spoke with Rishi Dave, CMO of Dun & Bradstreet, the business information services company had honed its utilization of marketing technology to help achieve its business goals. eMarketer checked in with Dave to discuss what is in store for 2016, and how Dun & Bradstreet maximizes its return on investment (ROI) from marketing technology.
Marketing technology is getting greater attention from marketing professionals, but many in the industry are often uncertain about how to apply it to their business. According to research from Rocket Fuel, two marketing technology trends likely to see more activity in 2016 are programmatic buying of TV and data management platforms.
More than a quarter of US CEOs said they plan to increase spending on advertising over the next 12 months, according to research. Marketing and sales promotion is another area they're focusing on.
Marketers are increasingly adopting and incorporating new technologies into their strategy. According to a July 2015 survey, almost a third of respondents said it takes four to six months to fully integrate new technologies into their marketing efforts.