Email Ad Spending
eMarketer's forecasts, data and statistics include estimates for email ad spending and how it compares to other digital ad spending by format, including display, search, lead generation, classifieds and directories and mobile messaging. eMarketer's reports, charts, interviews and forecasts provide ...

you with data and insights to answer a variety of questions such as:
Show More ▼
How much do companies spend on different marketing channels?
How much ad spending is directed toward email marketing?
How much do industries spend in various marketing channels?
Reports
Report
by
Paul Briggs
Mar 3, 2016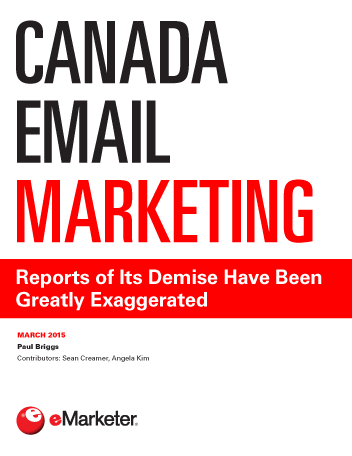 It's become a common belief that email has taken a back seat to newer, flashier forms of digital marketing, but data from the industry suggests otherwise. eMarketer expects Canada's email ad spending to see steady growth through 2020, and there's also increased investment in permission-based email across multiple sectors.
View this Report