Email
---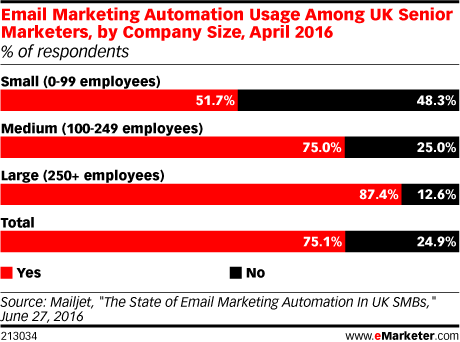 A solid majority of marketers in the UK use automated email campaigns, including more than half of those among even the smallest companies. At bigger firms, the rate is closer to 90%.
For most small- and medium-sized retailers in the US, email marketing helps with both customer acquisition and retention. And according to March 2016 research, it's far better than any other tactic for both objectives.
Retailers are continually relying on email to build a relationship with new and existing customers, and, ultimately, drive sales. But according to November 2015 data, consumers are getting too many emails from retailers.
Placing a sign-up form on the homepage of a website is the primary way US digital retailers encourage email subscriptions, according to research.
In 2016, digital display ad spending will eclipse search ad spending in the US for the first time. Combined, the categories of video, sponsorships, rich media and "banners and other" will account for the largest share of digital ad spending: 47.9%, worth $32.17 billion.