Email
---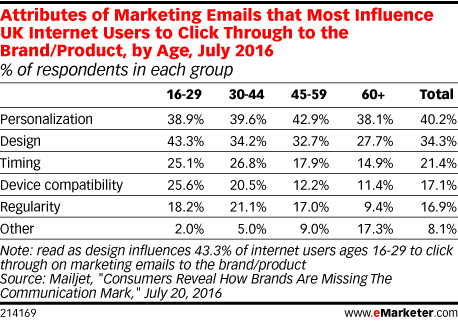 According to July 2016 research, personalization of marketing emails is most commonly the attribute that influences web users in the UK to click. Among the youngest users, however, design may be more of a factor.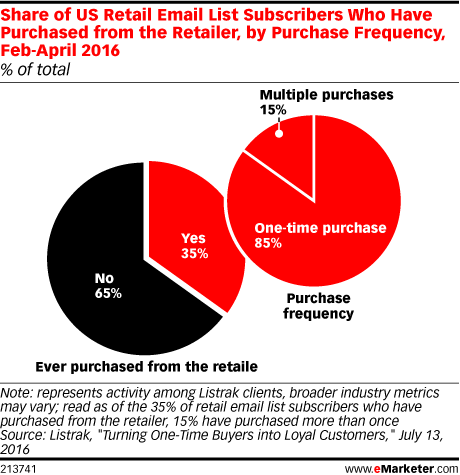 Only about one-third of US retail email list subscribers have actually made a purchase from the retailer whose email they subscribed to, according to industry data. Many have made just one purchase from that retailer, suggesting inboxes may be cluttered with unwanted retailer offers.
A solid majority of marketers in the UK use automated email campaigns, including more than half of those among even the smallest companies. At bigger firms, the rate is closer to 90%.
A review of marketing technology adoption habits found email marketing was among the most popular categories of software for marketers worldwide. New capabilities like dynamic content and better personalization, along with longstanding marketer familiarity with the tactic, are helping to keep the dollars flowing.
Retailers are continually relying on email to build a relationship with new and existing customers, and, ultimately, drive sales. But according to November 2015 data, consumers are getting too many emails from retailers.
Placing a sign-up form on the homepage of a website is the primary way US digital retailers encourage email subscriptions, according to research.
In 2016, digital display ad spending will eclipse search ad spending in the US for the first time. Combined, the categories of video, sponsorships, rich media and "banners and other" will account for the largest share of digital ad spending: 47.9%, worth $32.17 billion.