B2B
---
Sales enablement technology can aid sales teams with customer interactions spanning the entire buyer journey and also provide support for internal communication. Allana Hinks, marketing manager for Brauer Natural Medicine, spoke with eMarketer about the value of sales enablement technology for the company.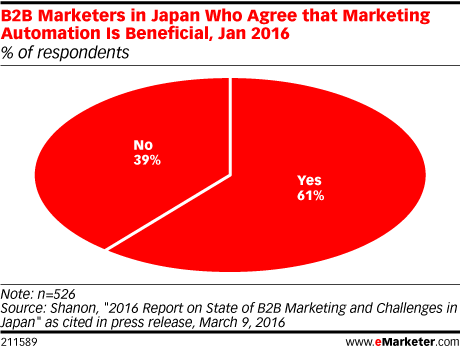 About six in 10 business-to-business (B2B) marketers in Japan agree that marketing automation is beneficial, according to January 2016 research. The biggest reason to use such technologies is to help visualize the results of sales and marketing promotions.
Research suggests a growing number of B2B marketers rely on marketing technology tools to attract and retain customers. More than half of executive respondents in a study confirmed they already invest, or planned to invest, in tools like CRM, marketing automation and content management systems in 2016.
Customer centricity, a philosophy built around identifying and targeting a company's most profitable customers to drive growth, is gaining a growing following in the B2B sector. According to research, many of the philosophy's adherents are turning to marketing automation and CRM tools to help build out their capabilities in the discipline.
B2B marketers in Australia are getting increasingly sophisticated in their approach to digital marketing, turning to tactics like marketing automation and social media to help generate leads.
While building market share continued to be one of the biggest challenges of 2015 for B2B marketers in the US and Western Europe, other business obstacles have become increasingly tricky compared to the year prior. Customer retention and increasing brand awareness are other hurdles they faced.
B2B marketers have made advancements in mobile in the past three years, per research. In 2016, 79% of B2B marketers said they had a mobile-friendly site, an increase compared to the 57% of respondents who had one in 2014.
The business-to-business (B2B) world has widely adopted lifecycle marketing, according to 2015 research. But some stages are being neglected, and many firms still have not gotten on board.
B2B companies may be eliminating some of the need for a sales force by offering different types of functionalities—from tiered pricing to cross-sells and upsells—to customers on their website. Newsletter sign-ups are the top features, according to 2015 research.