B2B
---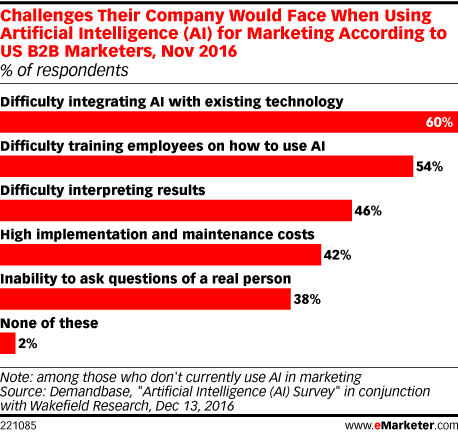 As businesses come to terms with tapping into artificial intelligence (AI) to improve operations, one key concern for B2B marketers is how it will be integrated effectively.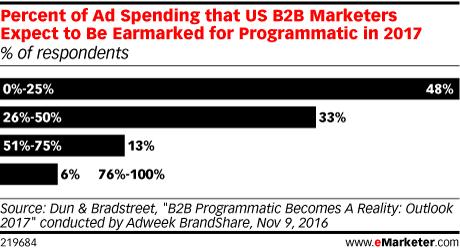 Nearly half of B2B marketers say they plan to invest a quarter or less of their ad spending budgets on programmatic ad buying. The spending plans point up a variety of concerns that B2Bs have when it comes to programmatic.
More than two-thirds of business-to-business (B2B) marketers worldwide devote dollars to social media advertising, according to September research. And among those who do, platforms like Facebook and LinkedIn appear to deliver the best ROI.
Well-produced and -managed marketing content sets up awareness, creates demand <i>and</i> enables sales. According to September research, more than half of business-to-business (B2B) decision-makers said their sales enablement strategy can be improved upon by serving hyperrelevant content at the right time—and by making it easier to find.
Hubert JP Jolly, global head of channel and enterprise services for Citi's Treasury and Trade Solutions business, speaks to eMarketer about how Citi is making the B2B user experience easier and more mobile-friendly.
Research suggests B2B marketers use lead generation programs not only to help increase their volume of potential leads, but also to help better segment and target prospects. Many also emphasize the importance of getting quality leads over quantity.
Proving the value of a business-to-business (B2B) marketer's role to business leaders can be challenging. According to research, most US B2B practitioners feel distinguishing the brand from competition and driving sales is the best way to get noticed by senior management.
Though social selling tools can deliver many benefits to business-to-business (B2B) professionals, such as shorter sell cycles and improved lead conversion rates, many are not sure of the benefits these tools actually provide, July 2016 research revealed.
Marketers are increasing their investment in sales enablement, and compared to 2015, nearly a third of US B2B marketing and sales professionals said their budgets increased at double-digit rates.
Matt Preschern, HCL's executive vice president and CMO, has spent close to two years transforming the company's marketing organization to help it effectively compete under the market dynamics of an increasingly digital world. Preschern spoke with eMarketer about how he is changing HCL's marketing team structure and its approach to hiring in support of his transformation efforts.