B2B
---
By now, every marketer has heard of marketing and advertising technology stacks, but the idea of an event tech stack is fairly new. As business-to-business (B2B) events and trade shows become increasingly digital productions, however, event technology is now required to help companies manage and measure them. Alon Alroy, co-founder and chief of marketing at event management platform Bizzabo talks about about the fundamental components of an event tech stack.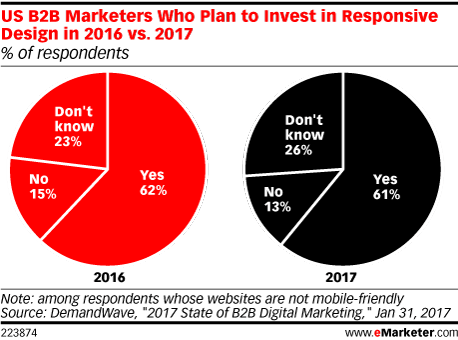 Mobile continues to be a challenge for B2B marketers. eMarketer analysts Jillian Ryan and Cathy Boyle discuss the ways that B2B buyers have shifted their behaviors around mobile, and the disconnect that exists between buyers' expectations and the customer experience.
With more data about their target audience and a maturing marketing technology stack in place, it's more possible than ever before for B2B companies to deliver custom communications for both an individual buyer and specific accounts. But executing these strategies is rarely simple.
DWA media's global CEO Bob Ray and media director Whitney Powell talk about how business-to-business (B2B) advertisers are making the most of programmatic advertising for digital and TV.
In the latest episode of eMarketer's "Behind the Numbers" podcast, analyst Jillian Ryan discusses the challenges of personalizing B2B marketing, and highlights some strategies to move beyond simplistic solutions.
Alyson Griffin, vice president of global marketing at Intel Corp., tells eMarketer how the technology company uses social media marketing to reinforce that it's much more than a chipmaker.
Jillian Ryan spoke with Malin Liden, vice president at SAP Experience, about how the company approaches social selling, why training is so important and how its top sellers have a quota achievement of over 160%.
A significant share of B2B agencies in the UK are feeling less confident about their future growth since the UK voted to leave the EU. B2B publishers could feel the pinch.
More B2B marketers say they are investing in social media marketing to drive brand awareness and generate leads. But many of those same marketers also say that social media's return on investment has been lower than expected.
B2B marketers in Western Europe and the US expect big data to have a big impact, but they don't necessarily see their companies as being able to harness it.