Retail
---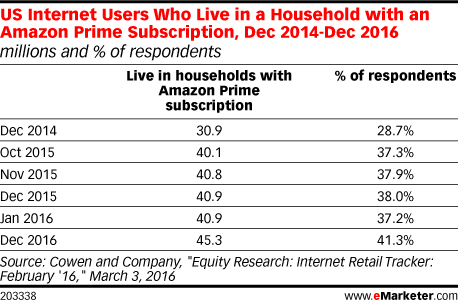 The number of internet users living in a household with an Amazon Prime subscription has grown year over year, according to research. In December 2015, there were nearly 41 million US Amazon Prime households.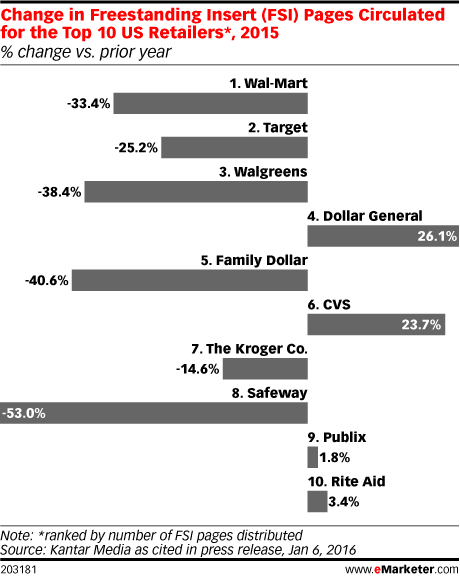 Print coupons remain an important promotional tool for retailers. And even though Wal-Mart decreased its circulation of freestanding insert (FSI) pages, the big-box retailer still retains the top spot among retailers who distribute these promotional materials, according to 2015 research.
Retailers like Wal-Mart, Target and Walgreens made significant sales gains in 2015, and are expected to be still bigger by 2020. Amazon, another top retailer, is projected to have the highest growth, according to 2015 estimates.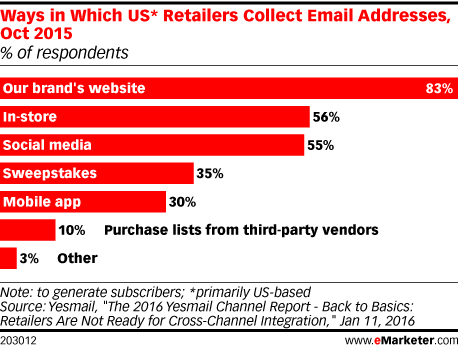 Email marketing is huge for retailers, and the first step in the relationship is getting a customer or potential customer's address. According to October 2015 research, the most common place retailers do so is on their websites.
Influencer marketing allows brands to connect with digital audiences in unprecedented ways. Consumers have developed deep connections with the bloggers and social media personalities they follow, and when marketers partner with these influencers, people see the brand through the eyes of someone they trust. Daniel Saynt, CEO and chief creative officer at influencer casting agency Socialyte, spoke with eMarketer about the qualities of a successful influencer campaign and the big impact of Snapchat.
Luxury brands were slow to take their marketing efforts digital, with many fearing they could not offer the kinds of impressive experiences on the internet that they were used to giving customers in person. But customer service has become increasingly important on luxury websites in recent years.