Retail
---
Users of online personal shopping and subscription service Stitch Fix are sent a box of five apparel, accessory or footwear items selected for them by their stylist. eMarketer spoke with Julie Bornstein, COO of Stitch Fix, about what the company has learned about its customers and why she thinks these types of services are disrupting traditional retail.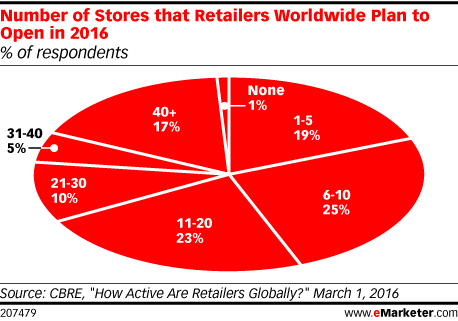 In total, 55% say they will open at least 11 new stores this year, which indicates that substantial growth is on the mind of a majority of retailers worldwide. Over half of those surveyed are concerned with growing real estate costs, however.
UK retailers are well advanced in the field of fulfillment and delivery. However, while they strive for an ever-expanding slew of such options, the operational cost is becoming a heavier load to bear. Upping the minimum order value is one way retailers are trying to claw back this expense.
Retailers are continually relying on email to build a relationship with new and existing customers, and, ultimately, drive sales. But according to November 2015 data, consumers are getting too many emails from retailers.
More adults make restaurant and retail purchases on the weekends than do so during the week, research found.
Less than 20% of US internet users have used a meal delivery service—like Blue Apron or Plated—even a single time, according to February 2016 research.
The Honest Company has built a loyal following among millennial mothers with their eco-friendly baby, personal care, home and health products. eMarketer spoke with Chris Thorne, CMO of The Honest Company, about how the lifestyle brand works to engage with millennial mothers and discover what they value.
The internet is the leading source of information for buyers in China to learn about luxury goods, according to 2015 research. Microblogs and mobile apps have grown in importance for luxury research over the past few years.
Internet users worldwide are most often influenced to purchase products in-store in order to save money, a Gfk survey reveals. Fifty-six percent of respondents are influenced to make in-store purchases by the allure of saving money, while only 26% are influenced to do so digitally.
Nearly three-quarters of retailers worldwide said they wanted their apps to offer payment security. Preventing fraud is more important for retailers than seamless ordering capabilities.