Retail
---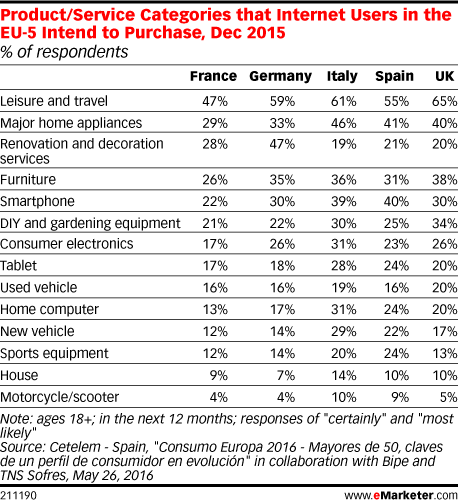 Internet users ages 50 and older have been fairly slow to embrace the internet, digital commerce and the sharing economy—but that's changing as familiarity increases and the benefits become clear.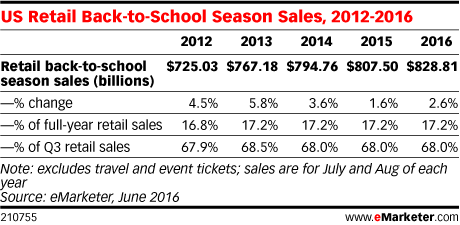 Many kids may still be wrapping up the current school year, but retailers are already gearing up for the back-to-school shopping season. This year, back-to-school retail sales will reach $828.81 billion, eMarketer estimates, and a higher share than ever is occurring online.
Migrating analog processes and data to digital technologies has become increasingly valuable for retailers and manufacturers that want to more closely monitor their supply chain. According to research, well over half of these firms expect to step up dollars for supply chain digitization.
Nearly a third of US grocery buyers said they would shop for more groceries digitally if the prices were better than they were in-store. But the same April 2016 research also found that almost a quarter of respondents said they would never shop online for groceries digitally.
Retail marketers in the US will invest $15.09 billion in paid digital media advertising in 2016, a 14.9% rise over 2015. The retail industry will remain by far the largest digital ad spender among US industry sectors tracked by eMarketer through at least 2020.
Javier Calvar, chief operating officer of Albatross Global Solutions, discusses the challenges facing luxury brands as they attempt to extend their appeal in digital channels.
As mobile usage becomes ubiquitous, the path to purchase is becoming less defined. Shoppers are always connected, well-informed and often quick to convert both digitally and in-store. The traditional shopping phases still exist, but once smartphones are introduced, behavior shifts.
High-end brands may have been slow to contemplate online sales, but many are now taking the plunge. Maria del Carmen Fernández González, CEO at Infinitum Ecommerce in Spain, spoke to eMarketer about the obstacles luxury brands face in a world transformed by digital channels, and how they can boost their appeal to target audiences.
Mobile advertising drives more store visits than desktop advertising, according to Jeff Campbell, co-founder and managing director of digital marketing agency Resolution Media. eMarketer spoke with Campbell about the various ways mobile can influence consumers as the move through the path to purchase and why retailers should rethink the way they measure mobile advertising.
Whether it's monitoring the supply chain, tracking and managing inventory, delivering personalized promotions, or enabling ecommerce from new environments, the retail internet of things (IoT) is ushering in an era in which "smart" things can seamlessly collect, share and analyze real-time data.