Retail
---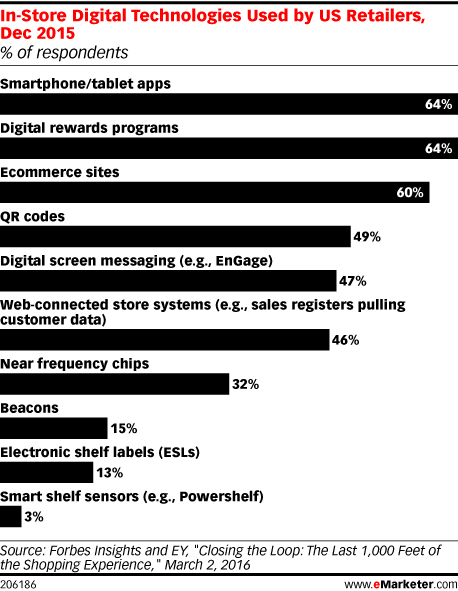 Retailers are increasingly using in-store digital technologies to enhance the customer experience, and ultimately, drive purchases of products. According to December 2015 research, mobile and digital rewards programs are two of the most used in-store technologies.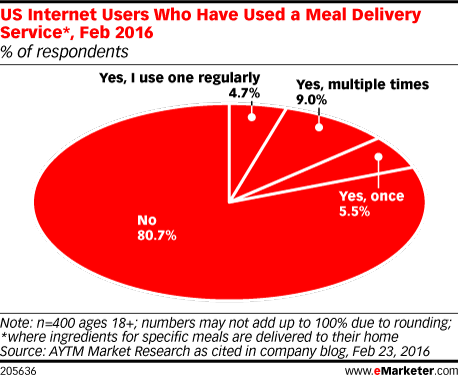 Less than 20% of US internet users have used a meal delivery service—like Blue Apron or Plated—even a single time, according to February 2016 research.
Nearly two-thirds of US internet users don't know if their favorite fashion retailer offers a mobile app, according to December 2015 research.
Social media and influencer marketing is helping women's athletic apparel companies not only drive engagement with new and existing customers, but also boost sales.
Custom-designed packaging can drive repeat purchases, according to January 2016 research. In fact, more than half of US digital buyers believe it makes a product more valuable.
Marketers have been teaming up with influencers for content creation and promotion, and these types of marketing campaigns have generated impressive results. According to December 2015 research, the beauty and fashion industry has also allocated a percentage of their budget to influencer marketing.
Retailers are increasingly prioritizing their digital efforts this year, and according to 2016 research, unified commerce is one of their primary focuses.
Placing a sign-up form on the homepage of a website is the primary way US digital retailers encourage email subscriptions, according to research.
Print coupons remain an important promotional tool for retailers. And even though Wal-Mart decreased its circulation of freestanding insert (FSI) pages, the big-box retailer still retains the top spot among retailers who distribute these promotional materials, according to 2015 research.
Influencer marketing allows brands to connect with digital audiences in unprecedented ways. Consumers have developed deep connections with the bloggers and social media personalities they follow, and when marketers partner with these influencers, people see the brand through the eyes of someone they trust. Daniel Saynt, CEO and chief creative officer at influencer casting agency Socialyte, spoke with eMarketer about the qualities of a successful influencer campaign and the big impact of Snapchat.