Politics & Campaigns
---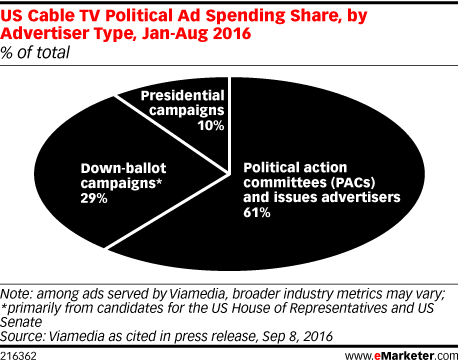 More than 60% of US cable TV political ad spending is coming from political action committees (PACs) and issues advertisers, according to data from Viamedia on ads served on its platform between January and August 2016.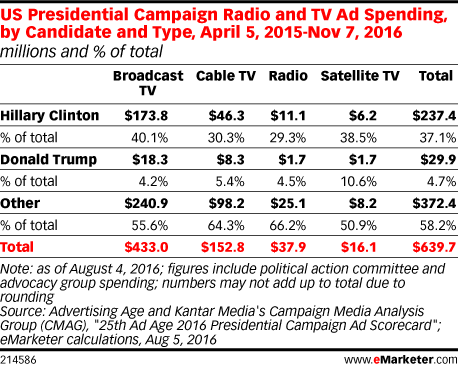 Republican presidential nominee Donald Trump's campaign has spent $0 on television advertising, while the campaign of his opponent, Democratic nominee Hillary Clinton, has spent roughly $52 million. Some advocacy groups have made Trump-supporting buys, but they are even being outspent by the Green Party's Jill Stein, as well as the Libertarian Party's Gary Johnson. Research shows that TV is still the dominant destination for political ad spend, but perhaps Trump is simply relying on the constant influx of free media he is getting.
More US registered voters said they saw marketing messages in support of likely Democratic presidential nominee Hillary Clinton in the past week than they did for presumptive Republican presidential nominee Donald Trump—across media.
US internet users say they learn more about politics from TV than anywhere else, and that TV ads are most likely to influence their voting behavior. But digital video is a growing source of political info</a> as well, and research suggests desktop-based video ads are the leading digital format for political campaigns from the local to the national level.
While TV is still the dominant destination for political ad spend, spending on digital channels is increasing the fastest year over year. In fact, US political ad spending on digital is estimated to nearly quadruple compared to 2014, according to research.
Television is the most effective political ad format influencing voting behavior across all generations, according to a January 2016 survey. Print ads also influence behavior.
Extreme political views and personal attacks have produced a climate that worries some users in Germany—and could deter advertisers