Financial Services
---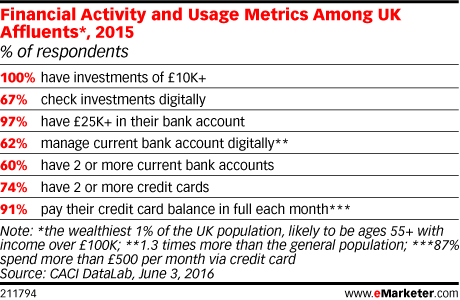 The wealthiest 1% of the UK population are more likely than the general population to bank digitally, with almost two-thirds managing their current account online. They even give that most-digital of demographic groups—millennials—a run for their money.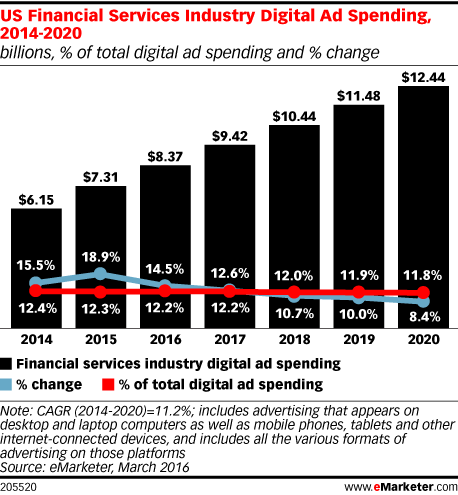 The US financial services industry will spend $8.37 billion on digital advertising in 2016, a 14.5% gain from 2015. As a result, this sector will be responsible for 12.2% of total US digital ad spending for the year.
Financial institutions are increasingly blending the physical and digital world to deliver better customer experiences. According to Q1 2016 research from KPMG, some banking executives are prioritizing various initiatives to transform the overall physical bank branch experience.
Adults in Quebec conduct a variety of different banking activities, according to November 2015 research. Checking bank accounts and paying bills are some of the top actions performed.
Though more than half (52%) of financial executives worldwide said their company offers a mobile app to clients, there are some that still do not, according to January 2016 research. In fact, nearly a third said they neither had one nor were developing one.
Nearly three-quarters of mobile banking app users use a mobile payment app to pay a bill, according to February 2016 research. They also use it to send money to a friend.
About one in three internet users in Australia conduct mobile banking activities, according to 2015 research. Among millennials, reach surpasses 50%.
Two in three UK internet users are comfortable with biometric identification when digitally banking, according to a January 2016 report. But for many other purposes, such a protocol may seem too invasive.
Financial institutions are facing many challenges this year, ranging from implementing EMV payments to making strategic hiring decisions. According to research, driving growth and profitability are among their biggest hurdles.