Advertising & Marketing
---
Diversity and inclusiveness have become major issues in the advertising industry in recent years, both for audiences and within its own ranks. eMarketer spoke to God-is Rivera, associate director of social media at digital marketing and advertising agency VML, about how brands approach diversity and how social media can support that.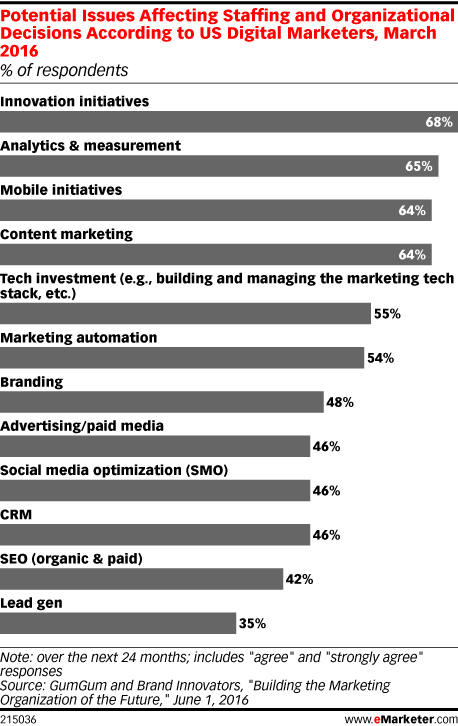 In a constantly evolving digital landscape, it's no wonder that US marketers want their department personnel to remain both informed and nimble. According to March research, almost seven in 10 feel the drive to innovate will likely impact their staffing decisions over the next two years.
Roughly half of US ad agency professionals said their clients are most interested in advertising on spot TV or spot cable—more than any other medium including digital, mobile, streaming video and radio, April 2016 research revealed.
Matt Preschern, HCL's executive vice president and CMO, has spent close to two years transforming the company's marketing organization to help it effectively compete under the market dynamics of an increasingly digital world. Preschern spoke with eMarketer about how he is changing HCL's marketing team structure and its approach to hiring in support of his transformation efforts.
Over 80% of marketers in Canada said they conducted social media engagement activities in February 2016, making it the leading digital marketing activity. And they're convinced content marketing will be one of the most important over the course of this year.
Senior-level digital agency professionals plan to make several business changes in 2016. According to a survey from Kentico Software and Millward Brown, many are looking to invest more money in software and hardware.
Nearly half of US creative professionals say the creative process could be more effective, according to February 2016 research. Just 2% of respondents said it was already perfect.
Client-side marketers in Southeast Asia are dissatisfied with their current marketing efforts. A perceived lack of agency capabilities in the areas of PR, creative and digital, as well as gaps in media audience measurement, are reported as key shortcomings.
Digital ad spending will surpass TV next year, eMarketer estimates. And according to February 2016 research, US ad agency professionals say their clients are interested in digital advertising more than last year.
Since eMarketer last spoke with Rishi Dave, CMO of Dun & Bradstreet, the business information services company had honed its utilization of marketing technology to help achieve its business goals. eMarketer checked in with Dave to discuss what is in store for 2016, and how Dun & Bradstreet maximizes its return on investment (ROI) from marketing technology.